Queen Elizabeth is a living icon all over the world. It's often said that Britain has two major cultural exports: British TV and The Royal Family. Elizabeth has served her country with distinction since 1952, never complaining, being a steadfast rock for her nation. But she's an international symbol of Englishness as well. Many of those who have English ancestry will identify with her and happily sing God Save the Queen. She's had a bigger cultural impact in places where she is still Queen to the English Diaspora - such as Canada, Australia, New Zealand, etc. While America's chucked out the British Royal Family, they still have a great affinity for The Queen. In countries like Canada, where she is still their head of state, she's held in even higher regard.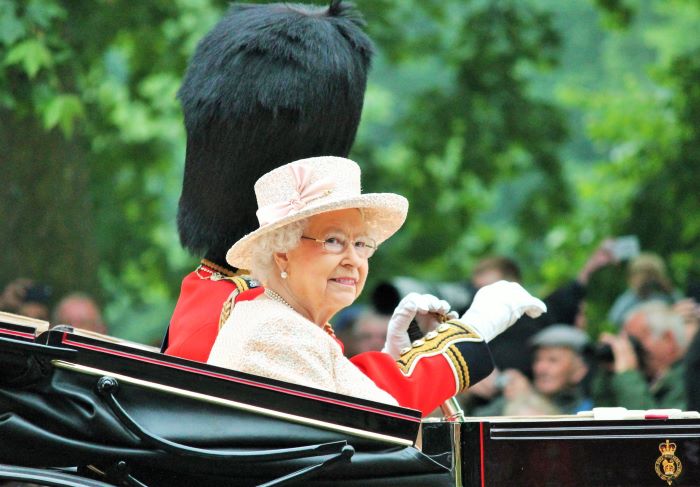 Queen Elizabeth II during Trooping the Colour ceremony, on June 13, 2015 in London, England, UK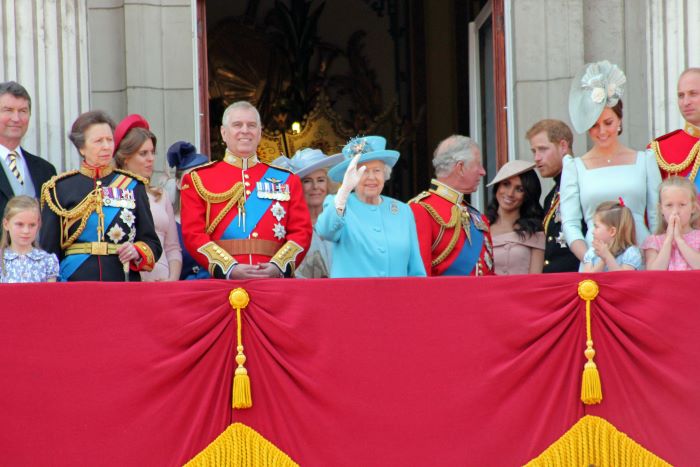 Queen Elizabeth London June 10, 2018- Trooping Colour Megan Markle, Prince Harry Andrew, William, Charles, Kate Beatrice, Eugenie & Charlotte Balcony
Credit: Lorna Roberts, Shutterstock
When Princess Elizabeth was born, she was just another Princess in the Royal Family. She was never going to be Queen. She was the child of the 'second' son. The eventual Edward VIII was the heir, the Duke of York his brother, was her father. But it all changed completely when Edward abdicated the throne so that he could marry the love of his life, Wallis Simpson (an American divorcee). When Elizabeth's father ascended the throne in 1936, her life was changed forever. She would now be The Queen.
Early Life
Before her father took the throne, they had lived a simple life, in a quiet house in London's Piccadilly neighbourhood. Things changed dramatically when the family moved into Buckingham Palace and became the country's Royal Family. Elizabeth and her sister, Princess Margaret, were very close throughout their childhood. They were each other's playmates - it's not like they could play with other children! They existed in their own little world, Elizabeth was 'Lilibet' to her family; Margaret was known as Margot. The girls spent their time playing and training to be Princesses. They were educated at home under the watchful eye of their nanny and governess Marion Crawford.
The Young Princess
Elizabeth was still very young when her father took the throne, just ten years old. And her life changed in a big way. Now the family would live in Buckingham Palace, and Elizabeth would learn how to be a Queen. A sense of duty was imparted on her at a young age, and it is said that she loved four things a child: her horses, dogs (Welsh Corgis), orderliness and her attitude of responsibility.
While her father was busy managing the affairs of state, Elizabeth began a different education. Princesses generally didn't go to school in these days, and it was still considered untoward for Elizabeth to go to a proper school. But she still needed to learn Britain's history, how its government worked, and her role in the country's way of life. So, it was decided that she would be privately tutored by the vice-provost at Eton College, where she would learn everything she needed to know.
To give the girls some exposure to other girls their age (but in the proper social class), a 'Girl Guides' - the British equivalent to Girl Scouts - group was founded at Buckingham Palace. She also became a 'Sea Ranger' as well. So, in the late 1930s, as Britain headed towards confrontation, the girls lived an idyllic childhood. And then, in 1939, it all changed.
Wartime Princess
As the entire nation of Britain and her empire went on a war footing, it was very clear that Elizabeth would need to have some kind of role in things. This had to be balanced with her safety. She was the heir to the throne, so it was not safe for her and Margaret to stay in London at Buckingham Palace when bombing raids were happening daily. So, they were secretly sent to Windsor Castle, where it was thought they would be safer (and if there was an air raid, they were protected in the Norman castle!).
There was talk to evacuating the family to safety in Canada, but George VI would not even consider such a thing. The Royal family would not flee; it was their duty to do their bit for the war, just as everyone else was. George and the Queen Mother generally stayed at Buckingham Palace - even after it was bombed several times. They felt it was their duty to suffer along with their people.
Elizabeth and Margaret were well cared for in Windsor and kept safe by the military garrison that guards the royal family. Of course, there were still air raids as Windsor Castle made a tempting target, even if the German's didn't know the princesses were there. But they were relatively safe, safer than they would be in London. Even the crown jewels were hidden in a biscuit tin beneath the castle.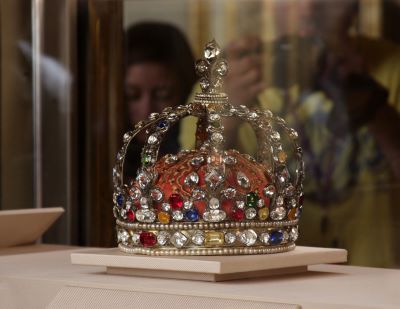 Queen Jewels
Credit: Joseph M. Arseneau, Shutterstock
Elizabeth stepped into the public spotlight for the first time during the war when she was 14. During the BBC radio's Children's Hour, she made her first radio broadcast to the children of Britain who had been evacuated from their homes due to the war. She said, "Thousands of you in this country have had to leave your homes and be separated from your fathers and mothers. My sister Margaret Rose and I feel so much for you as we know from experience what it means to be away from those we love most of all. To you, living in new surroundings, we send a message of true sympathy, and at the same time, we would like to thank the kind people who have welcomed you to their homes in the country."
The broadcast went down very well with the country, but she did not make another broadcast until later in the war. In the intervening time, she eventually joined the Women's Auxiliary Territorial Service and learned how to drive and repair motor vehicles. There are very famous pictures of her in uniform. She is, as of the writing, the only remaining head of state in the world that can say that she served during World War II.
After the War
She went on her first overseas tour in 1947, accompanying her parents on a tour of Africa, where Britain still had colonies (but would not for much longer). Royal Tours are generally a boring business of venue openings, hand wavings, processions and state banquets. But she made headlines when she made a broadcast on the occasion of her 21st birthday. She made a pledge to the British nation and the Commonwealth: "I declare before you all that my whole life, whether it be long or short, shall be devoted to your service and the service of our great imperial family to which we all belong."
Marriage
Every Queen needs a love story, and Elizabeth's is very unconventional, by modern standards at least. Typically, with most royal couplings, Elizabeth and Philip Mountbatten are related to each other through Queen Victoria. They met in the 1930s, and their relationship was not a sure thing, but the young Elizabeth was certainly smitten by the dashing young Greek Prince, who was five years older than her.
Philip, whose family had been exiled from Greece and who spent the war fighting for Britain in the Royal Navy, was under the care of the Earl of Mountbatten (the last Viceroy of India). Mountbatten was, shall we say, a bit of a social climber and he wanted to scheme his way into the Royal Family. He was able to do this through Philip. He created the situations needed for Elizabeth for fall for Philip. And they were certainly a handsome and suitable couple.
After the war, their relationship blossomed, and they fell in love, which was convenient for all involved. However, despite this, there was a movement for Elizabeth to marry someone more suitable. Philip had a lot working against him. He wasn't actually British (even though he looked like an English Gent and spoke with an English accent). He had no titles, no land, no inheritance. There was also the matter of his five sisters, who were all married to Nazi's during the war. Philip faced many of the same criticisms that Prince Albert had faced in the 1800s when he and Queen Victoria had wanted to marry.
But Elizabeth and love prevailed. In fact, knowing of the meddling of the rest of the Royal family, she accepted Philip's proposal without consulting her family. This was a great example of Elizabeth coming into her own and making choices for herself while she still could.
Their Royal Wedding was the event of the late 1940s in Britain. Britain was still recovering from the austerity of World War II - in fact, they were still on war rationing. Elizabeth had to save up her ration coupons to get the materials needed to make a wedding dress. It was an understated 'austerity wedding', but even with the tightened circumstances, it was still a huge event, with great public interest. It is said that 100,000 people cheered their wedding procession. Prince Philip became the Duke of Edinburgh.
The princess was now married and would begin a new phase in her life.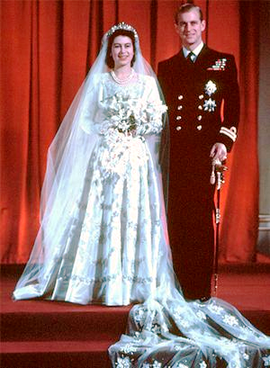 Wedding of Princess Elizabeth and Philip Mountbatten on their wedding day, 20th November 1947
Credit: Wikipedia
Married Life
The next few years were a whirlwind of Commonwealth visits and crucially - giving birth to children, first with Prince Charles, the current heir to the throne. As this stage, the Duke of Edinburgh was still serving in the Royal Navy and was intermittently stationed in Malta. Princess Elizabeth went with him, leaving the children at home, and lived the life of a Royal Navy wife. It has been reported that Elizabeth cherished this time as she got to experience being a housewife without onerous Royal duties in isolated Malta.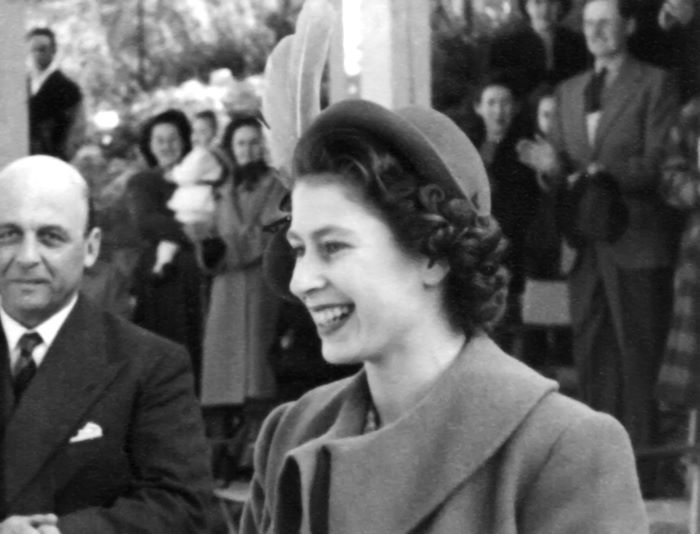 A young Princess Elizabeth when she lived in Malta between 1947 and 1951
Accession
As the 1950s began, Elizabeth began to stand in for her father at important events due to his declining health. In 1952, while Elizabeth was on an official visit to Kenya, then still a British colony, King George VI died. When a monarch dies, the heir immediately becomes the new monarch. There is no gap, and in actuality, 'The Crown' never actually dies. Elizabeth became Monarch, at first, without even knowing it.
It was left up to Philip to deliver the news to her that her beloved father had died. The Royal party then had to hastily return to Britain so that the Privy Council could meet and formally declare the new Monarch so that she could then be declared Queen in all the Commonwealth Realms and colonies. A subdued state funeral followed, and a year later, Queen Elizabeth II was formally crowned during the Coronation in Westminster Abbey.
She started out life just as a little girl who was a princess, and she ended up a Queen. Her life would change dramatically now that she was in charge of the Royal Family.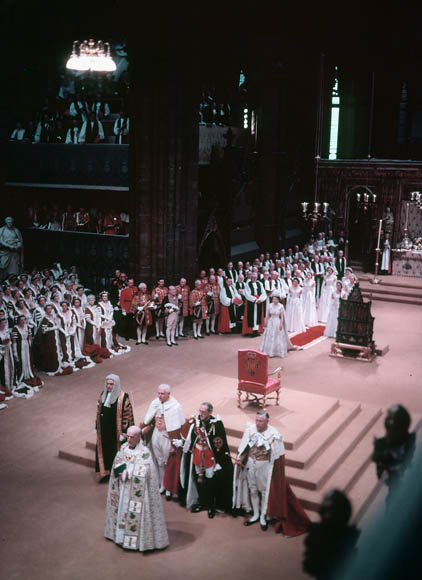 Coronation of Queen Elizabeth II, 2nd June 1953
Motherhood Children
Motherhood was a complicated affair for Elizabeth, as it was for Queen Victoria. She had to balance her Royal Duties with being a good mother, and there are many times when it didn't work. In order to keep her oath and sense of duty to her people, she had to be somewhat withdrawn from the raising of her children, as aristocrats before her had commonly done. This is where Philip took on a greater role, taking charge of the children's educations and managing the household so that Elizabeth could concentrate on being Queen.
Elizabeth's Royal Duties
What exactly does a Queen do all day? Well, due to her advanced age, she does a lot less these days than she used to. But in her prime as a young Queen, her schedule was kept packed. Her most important role is to give Royal Assent to all the laws passed by her Parliament. By convention, she always grants the assent and has never vetoed any legislation. The British Government operates in her name, and thus sends her important papers of state that she must read and sign off on, these are given to her in a red box, every day.
In addition to Royal Assent, the Queen's role is as Head of State. And while her Prime Minister acts as a de facto political head of state, Elizabeth is the one that holds State Visits and is in charge of accepting new Ambassadors and all the other functions expected of a non-political head of state.
She also grants titles, though not many these days. In addition to titles, she also bestows honours, twice a year - on New Year's Day and her official Birthday in June. Honours such as Sir, Dame, OBE, MBE, etc. are her gifts to people who have served Britain with distinction. There are several layers of honours, but the highest most people associate with the system are Knighthoods and Damehoods. The celebrities usually get all the attention when the honours lists are released, but the list is always much longer of people who have done good works but don't get the same kind of notice.
Until recently, The Queen bestowed the honours herself (by placing a sword on each should of the recipient). But now this is often done by Prince Charles or Prince William. There's a rolling calendar throughout the year of events to do with the honours system and the various orders of merit.
Despite being non-political, the Queen has a very political role to play in British government. She meets weekly with the Prime Minister to discuss affairs of state, and will advise and consult with the PM, but never making declarations. What happens in these meetings is kept secret. It's also the Queen's job to open Parliament every session during the State Opening of Parliament. This involves a carriage procession and a trip to the Palace of Westminster, where the House of Lords and the House of Commons will gather to hear the 'Queen's Speech' which sets out her government's upcoming legislative program. Despite being called her speech, she never writes it and has nothing to do with it - she's just a mouthpiece.
And then there is your day-to-day Queening, which involves visiting with the people of Britain, being their voice, being their monarch. This will often involve special church services, or official visits to open a special building or event. Being there for them when the nation is going through something traumatic. The Queen does a lot less of these at her current age, with the younger members of the Royal family taking up the jobs.
The Queen and Her Prime Ministers
The most important relationship in her role as Monarch is that with her Prime Ministers. While Prime Ministers are now wholly elected by the people of Britain in elections, they are still appointed by her and asked to form a government if they can command a majority in the House of Commons. Politics can be quite volatile, so she is always 'on call' to serve in her role as Head of State and meet with the Prime Minister.
The Queen meets with the PM every week, most weeks. The meetings even take place when she is on holiday at Balmoral in Scotland. She has had 13 Prime Ministers during her reign. Her first was Sir Winston Churchill, who had great affection for her. Her most recent Prime Minister is Theresa May (though that will change by the time this is published). In between has been an interesting cast of characters that have played a critical role in British History. It has been said often that Harold Wilson, who served two separate times as PM, was her favourite. But we can never really know for sure.
Discretion is the most important part of their relationship. We have no idea what occurs during the weekly audiences. Minutes are not taken. The PM's almost never tell (though they have hinted). The Queen certainly never says anything. She is a trusted advisor to the PM's providing unbiased, unpolitical advice on behalf of the people of Great Britain. Whether or not her advice has been followed or ignored, we can never really know. It's also been reported that she greatly disliked Margaret Thatcher, who she thought acted a little too much like a Queen herself.
The Queen and the US Presidents
The Queen's most important relationship outside of the Commonwealth is that which she has with the United States. The Special Relationship between these two countries has played a huge role in her Royal life. She has met with 12 presidents over her lifetime, starting with Harry Truman when she was still a princess. She has been hosted on State Visits to the USA but has only hosted the three most recent US presidents on State Visits to the UK. The relationship has always been apolitical and focused on maintaining the deep friendship between the USA and the UK.
Elizabeth's Hobbies
Despite a busy schedule and many duties, the Queen still makes time for her passions. Her biggest and not many people know this is horses. She is a prominent horse breeder herself, and she will attend the various major horse races that are part of the British social season. In addition to enjoying the racing, she also is a keen rider and can still be seen riding her beloved horses through Windsor Great Park, where she lives when she's not in residence at Buckingham Palace.
Until recently, she also had a great passion for her Welsh Corgis. They were known to have run of the various palaces and were constant companions to her. They were all descending from the same dogs she had growing up as a little princess. Sadly, the last corgis died recently, and the Queen decided to stop breeding them.
Elizabeth also has a great passion for Scotland, and not just because she's their Queen too (and actually in Scotland, she is only known as Elizabeth I since England's Elizabeth I was never monarch over Scotland). Balmoral is probably her favourite home in the Royal Family's property portfolio, and the family will spend the summers there. The Queen will mix leisure time with state business - often hosting the Prime Minister at least once. Balmoral is a vast estate, and the Queen loves driving her Land Rovers and deer stalking.
In keeping with her position, the Queen, of course, enjoys the best in British dining. Though she is known to hate garlic, she prefers a simple, disciplined diet to keep herself healthy. It's also been noted that she loves chocolate desserts, which are served often at State Dinners. The Queen, in keeping with her generation and her people, loves gin as a Royal nightcap.
Though she does it a lot less these days, the Queen does love the Theatre and Opera and would often attend, particularly the Royal Opera. Like most of the rest of Britain, the Queen does watch TV. Not much is known about her favourite TV shows, but it has been reported that she liked Downton Abbey and would point out mistakes. TV Presenter Alexander Armstrong also said that palace sources told him that the Queen loves his quiz show Pointless.
A Certain Way of Doing Things
Elizabeth is one of the last of her generation of Britons, and they did things differently. She's an anchor to a past the nation keeps holding on too. She has an immensely strong sense of duty. There have been calls for her to abdicate due to her advanced age, but she has steadfastly refused. She has a duty to her people to serve, and she will do it until she can no longer.
The Royal Family is famously secretive; they try to keep their private affairs in the Palace. But occasionally, they do splash out on the pages of the nation's tabloid newspapers. The Queen never really generated much gossip - she's above reproach and so respected. But her children have borne the brunt of the gossip fodder.
The Queen famously does not do interviews. She does not do chat shows, news broadcasts, or television shows (though has cooperated for the occasional Royal Family documentary). The broadcasters come to her when she wants to speak to her people. She rarely does these days - the most famous yearly speech is her Christmas speech when the whole nation stops to hear her speak. She'll also speak at grand state occasions like foreign state visits. But generally, she likes to let the job speak for itself, through her actions.
Annus Horibilis
Elizabeth has had her fair share of missteps and there were many in 1992 which she called her 'Annus horribilis' - which is a Latin phrase for the horrible year. She said, in a speech to the Guildhall in November 1992: "1992 is not a year on which I shall look back with undiluted pleasure. In the words of one of my more sympathetic correspondents, it has turned out to be an "annus horribilis." It was an unusual show of emotion and openness by a usually closed off Monarch.
The biggest terrible event to happen was the fire at Windsor Castle. The Queen spends most of her time at Windsor Castle when she's not on official duties, so the fire was devastating. It destroyed many staterooms, which had been constructed over the last 1,000 years. It was very upsetting for her beloved home to go up in flames. A massive restoration program was undertaken, and the palace is today, if not better than it was before the fire.
She was also referring to the terrible things happening in her family during the year. In quick succession Prince Andrew separated from his wife, Princess Anne got divorced, a nephew died, Princess Diana wrote a tell-all book about her marriage to Prince Charles. Mauritius also decided to abolish its Monarchy, removing her as Queen. Amongst other things.
Wealth Controversy
It has often been joked that it was hard to be 'richer than the Queen.' It turns out, though, that she is not that wealthy. In fact, in the 2019 list of richest Britons, the Queen is only the 356th richest person in Britain with a personal wealth estimated at £370m (about $500m). Still, she has faced calls to pay her fair share in taxes, and she has started to do so voluntarily.
The Queen, in the Crown Estates, has vast holdings in property, palaces, and art that while she has nominal control, she does not own them. They belong to the people of Great Britain. They were signed over by George III in exchange for a yearly grant to run the Royal Household and affairs of state. A variation of this agreement was in place until fairly recently. Now, the Queen's official duties are covered by a yearly grant issued based on the profits of the Crown Estate (it owns large tracts of valuable property in central London).
There is also controversy when it comes to the Queen's expenses. While she is notoriously frugal, she does live in a gilded palace in a nation with vast wealth inequality. There have been calls to abolish the Monarchy altogether. But support for that is very low. The Royal Family brings a lot of tourism and soft power to the nation of the United Kingdom, so the Queen and the Royal Family aren't going anywhere. It's excellent value for money.
Where is she Queen?
The Queen is the Head of State for the following 16 nations:
Antigua and Barbuda
Australia
The Bahamas
Barbados
Belize
Canada
Grenada
Jamaica
New Zealand
Papua New Guinea
St Kitts and Nevis
Saint Lucia
Saint Vincent and the Grenadines
Solomon Islands
Tuvalu
United Kingdom
She is also the nominal head of the Commonwealth of Nations (though this position is not technically hereditary and it's still up in the air whether it will be passed to Prince Charles on his accession). The Commonwealth sprang out of the remnant of the British Empire as it was dissolved after the post-war realignment and decolonization that swept the world. It's like the United Nations, except for former colonies of the British Empire. It fosters brotherhood and understanding amongst various nations. Its biggest 'event' is the Commonwealth Games, held every four years that rival the Olympics in athletic excellence.
Obviously, due to her age and her geographic location, it's not possible for The Queen to conduct Royal Duties on a regular basis in all of these places, some of which are very remote. So, she appoints a Governor-General, which represents her interested in each realm. This person is usually chosen by the nation itself and officially appointed by her. The Governor-General usually carries out the duties that a monarch does - such as opening parliament, granting Royal Assent to new laws, etc. It's very, very uncommon for the Queen to personally intervene in the politics of one of her realms.
The Queen is generally viewed with great affection by her Commonwealth Realms, though some have expressed interest in abolishing the Monarchy altogether (like Australia and Jamaica). But the Queen provides an important cultural link to the 'mother country' for many of these nations. Many citizens of these realms in the English Diaspora look to the Queen for comfort and guidance in an uncertain world. She's a rock-solid force in the Diaspora communities across the globe. The Queen is highly respected, even where Republicanism is strong. Whether or not this affection transfer to her son, Prince Charles, remains to be seen.
Her Faith
Religion is very important to Elizabeth II. And not just because it's a job requirement. Thanks to Henry VIII's actions, the British monarch is the head of the Church of England. In her role as Supreme Governor of the Church of England, she carries out various important duties throughout the year such as presiding over Church services like Maundy Thursday or Lent. She also appoints the bishops and archbishops of the Church (though now the Church usually picks the candidates and she rubber stamps them). She also holds authority over the greater Anglican Communion around the world, but she largely lets the church-run its own affairs. She also swears an oath to Protect the Church of Scotland, which is a different denomination (Presbyterian). The Queen regularly attends church services and will do so wherever she is. She has her own private chapel at Windsor Castle as well as her own Church on the grounds. She is also known to attend walkabout around her estates by visiting parish churches.
How the Queen Lives
The Queen is known to be notoriously frugal, despite her great personal wealth. Well aware of the optics of literally living in a Gilded Palace, the Queen tries to run the Royal Household frugally so that it doesn't waste money and does not appear to show off. She's been known to order people to walk to the sides of the carpets, so they don't wear down in the middle. Her personal spaces are suitably spartan and reflect the generation that few up through the privations of the Great Depression and World War II. When she was recently photographed in one of her sitting rooms, the chattering classes were shocked to see her using a £20 electric heater in one of her cold palaces.
Elizabeth and Diana
The most controversial relationship the Queen has had in her lifetime is the one she had with Diana, Princess of Wales. Not much is known about their relationship. But we do know that the Queen is generally one to keep her distance from close family members, so her relationship with Diana was likely cold and official. It was not an arranged marriage, but the Queen had to give her personal approval to Prince Charles marrying her. Diana did lean on the Queen to learn the ins and outs of life in the Royal Family and apparently, the Queen found this trying. When her relationship with Charles started to break down, there was not much sympathy, and Diana quickly found herself on the outside of the Palace walls. This drove her to participate in tell-all books be open in public about her treatment by the Royal Family. Their relationship never recovered.
The Queen's Palaces and Estates
The Queen has some rather confusing and unconventional living arrangements. Buckingham Palace is her 'official' state residence and where she conducts state business (such as meeting Prime Ministers or receiving ambassadors). But she doesn't live there all the time. She prefers Windsor Castle. She owns neither personally, the Crown does. However, she does own several properties personally, that she controls and passes down to her children outside of the Crown Estate. We'll break it down (this is not a complete list):
Official Residences (Belonging to the Crown):
Buckingham Palace: Official State Residence in London
Windsor Palace: Official Country Residence and where she spends most weekends.
Palace of Holyrood House: Official Scottish Residence where she stays for official Scottish duties like Holyrood Week.
Hillsborough Castle: Official Residence in Northern Ireland
Clarence House - Official London residence of the Prince of Wales
Kensington Palace - Official residence of Duke and Duchess of Cambridge but is no longer a proper Royal Palace.
St James's Palace - Official home of the Queen's Court, but she does not live there.
Private Residences (Belong to the Queen Personally):
Sandringham House - Stately home in Norfolk where the Royal Family usually spends Christmas - the Queen generally stays there until February.
Balmoral Castle - Scottish Castle originally purchased by Queen Victoria where the Queen spends most of the summer months.
After the Queen
It's almost unthinkable to ponder the day when Queen Elizabeth will no longer be with us. She has been in the background of all our lives for generations. When she does pass, it will be a heartbreaking event in British history that will completely change everything. Plans for her funeral leaked a few years ago - it's called Operation London Bridge - and it will be a huge station occasion to mark the passing of an era. There will be a time of mourning. When it happens, Prince Charles will immediately become King - if he himself is still alive when the day comes. If he pre-deceases her, then Prince William will become King and on down the line of succession. While Charles or William will be King upon her death, they will likely not be crowned in a coronation ceremony for another year. Coronations are big events that take a lot of planning and usually the new monarch is key in participating. There will be a funeral, a time of mourning, Britain will move on and then, there will be a coronation. Whether or not the 16 Commonwealth Realms opt to keep the Monarchy, remains to be seen.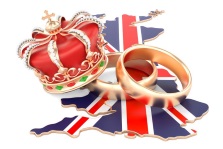 Queen Elizabeth 101