Our in-person family gatherings
Ireland's President Higgins family message
Our TEDx talk about family gatherings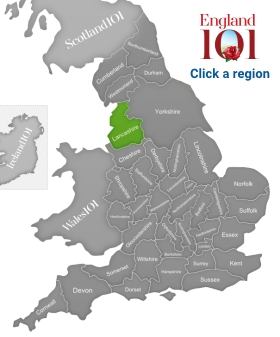 Lancashire's history is woven into its landscape. From it's Industrial Revolution-era cotton mills to its traditional seaside resorts, this north-westerly region captures the essence of 19th-century England. Once incorporating both Liverpool and Manchester, Lancashire's main draws today include Blackpool, Lancaster and its quaint rural villages.
Historic sites
Lancashire is peppered with grand halls and ancient forts. Don't miss a tour of Lancaster Castle, which was a fully working prison until 2011 and conceals 1000 years of history – The Pendle Witch Trials were held here in 1612. Nearby, Lancaster's 100-year-old Ashton Memorial – a beautiful folly resembling St Paul's in London – provides wonderful views across Morecambe Bay.
Ashton Memorial

Credit: Mike Beaumont_CC2.0

Lancaster Castle

Credit: Visitlancashire.com
Rufford Old Hall in the south offers a fine example of Tudor architecture and interior design – Shakespeare is said to have spent time here in his youth – while Turton Tower boasts an impressive collection of Tudor and Victorian furniture and fine art.
The magnificent monochrome Samlesbury Hall has a multi-faceted and at times gruesome history – join a free character-led tour to find out more. Remember BBC's Downton Abbey? Gawthorpe Hall is nicknamed the Downton of the North – and was redesigned by the same architect as the true Downton's Highclere Castle. Come to see the vast collection of historic portraits and textiles. The striking Stonyhurst College – where Sherlock Holmes writer Arthur Conan Doyle studied – maintains an impressive collection of paintings and is open to the public on specified dates.
Samlesbury Hall

Credit: Visitlancashire.com

Gawthorpe Hall

Credit: Visitlancashire.com

Stonyhurst College

Credit: Visitlancashire.com
Things to do
Blackpool is one of Lancashire's most popular destinations and is known for its wild nightlife and an old-school seaside funfair. The iconic Blackpool Tower and Ballroom houses myriad attractions, including a circus and a 380ft viewing platform. Blackpool Pleasure Beach theme park is over 120 years old and tempts daredevils with roller coasters such as the Big Dipper and the Big One. If you're looking for lower-paced thrills, head south for a round of golf at Royal Lytham and St. Anne's or Fairhaven, two of northern England's finest championship courses.
Blackpool Pleasure Beach

Credit: Visitlancashire.com

Blackpool Tower and Beach front

Credit: visitlancashire.com

Blackpool Tower Ballroom

Credit: Michael D Beckwith CC 2.0
Despite its industrial roots, Lancashire is mostly a verdant patchwork of moorland and coastal plains. Two areas of outstanding natural beauty are worth working into any Lancashire itinerary. The first is the Forest of Bowland, with its cycle paths, pretty villages and scenery that inspired Tolkien's Middle Earth; highlights include Beacon Fell Country Park and the gardens of Browsholme Hall. The second is Arnside and Silverdale, ideal for coastal walks and home to the historic Leighton Hall. The West Pennine Moors offer even more rambling options (try a route that incorporates Rivington Pike) while Brockholes Nature Reserve is a worthy detour for wildlife spotters.
Forest of Bowland

Credit: visitlancashire.com

Browsholme Hall

Credit: Visitlancashire.com

Leighton Hall and Gardens

Credit: Visitlancashire.com

Brockholes Visitor Village

Credit: Visitlancashire.com, Jason Lock
In the mood for museums? Explore Lancaster City Museum, Lancaster Maritime Museum or Cottage Museum for various depictions of local life over the centuries, or discover the industrial heritage of the region at Queen Street or Helmshore Mills Textile Museums, where you can see demonstrations of cotton weaving and original machinery. Clitheroe Castle Museum is a great choice for families.
Queen Street Textile Mill Museum

Credit: Visitlancashire.com

The Spinning Room at Helmshore Mills Textile Museum

Credit: Nic McPhee CC2.0
Food and drink
Lancashire is known for giving the world black pudding (blood sausage), Lancashire hotpot (lamb stew topped with potato) and Eccles cakes (flaky pastry parcels stuffed with currants), but there's plenty more to the region's food scene. Try Blackpool's best fish and chips at The Cottage, or opt for high-end pub grub at Freemason's Country Inn or the Inn at Whitewell.
For Michelin-starred fine dining book a table at Northcote or Moor Hall; the former serves impeccable Sunday roasts and caters for plant-based guests while the latter boasts an entire cheese room.
Lancashire is home to the UK's last surviving original 'temperance bar', Mr Fitzpatrick's – a tavern where only non-alcoholic drinks are served. If you like your beverages a little stronger, visit local breweries Bowland or Hawkshead.
Highlights:
The Beatles
Blackpool
Golf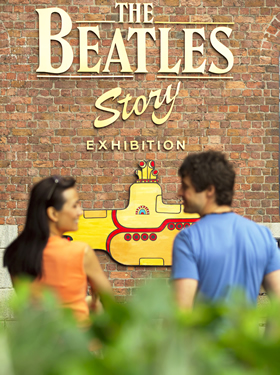 Couple outside The Beatles Story Exhibition and Memorabilia Shop, Liverpool, Merseyside.
Credit: Britainonview, Pawel Libera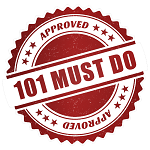 101 Must-Do' ways to live your regional connection.
Our 101 team have been working with local tourism, business, community and Council initiatives to bring you some of the best ways for you to live your connection to Lancashire.
Community