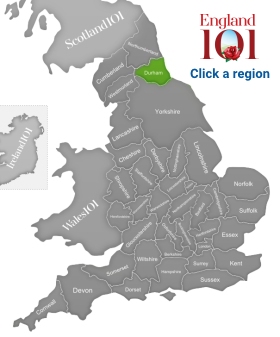 County Durham, named for its county town, Durham, is one of the few counties in England that is ritually referenced with a preceding "county", much like its Irish counterparts. This was historically to differentiate between the city and the county.
To understand Durham, you have to delve into the county's history, which has been inexorably tied up with industrialism, production and export. Situated in the far north-east corner of Britain, County Durham was historically rich in natural resources and had an extensive sea coast and several natural ports that allowed it to flourish within industry. In fact, Durham at one time had one of the largest mining communities in all of Britain. In 1921, nearly 160,000 of the county's 500,000 total residents worked in the coal mining industry, with large numbers of others employed in adjacent industries, such as transport and shipping. Durham also maintained one of the largest 19th century ports in Britain at the Port of Sunderland.
Mining and shipping more or less tapered off in Durham in the late 20th century, making way for the county to become a centre of tourism. The county town, Durham, is particularly fascinating for visitors, who come to marvel at its Norman cathedral and 11th century castle, both of which were designated as a UNESCO World Heritage Site in the 1980s. Now maintained by Durham University - a beautiful heritage campus in and of itself - the cathedral overlooks Palace Green and is now used as a student residence.
In the south central part of the county, Shildon was historically a transport centre of the region and became a railway hub, transporting the heaps of coal and other ores that were mined around Durham to other parts of England. Today, Shildon proudly houses the National Railway Museum, which recounts the story of the train throughout British history. On display here are dozens of historic trains and engines, as well as art and paraphernalia related to the railway industry.
Durham today is gladly visited for the Durham Castle, several spectacular gardens and amazing parks. Durham displays its rich culture in several museums, including the Oriental Museum, Durham Museum and Heritage Centre and Museum of Archaeology. Families enjoy visiting the Adventure Valley, an endless source of outdoors fun, while the fans of spooky fun often take the Durham Ghost Walk, a tour telling the grimmest stories of the area. County also hosts a number of festivals and community events, including the Durham Lumiere, UK's largest festival of lights, Seaham Food Festival, hosting artisan food manufacturers, celebrity chefs and cocktail masters, as well as the Durham Adventure Festival.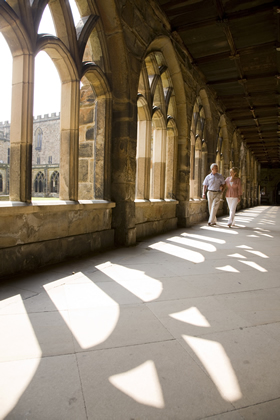 A couple walking by the arched windows of Durham Cathedral Cloisters, regarded as one of the finest examples of a Norman cathedral in Europe., Durham, County Durham,England.
Credit: Britainonview, Co. Durham Tourism Partnership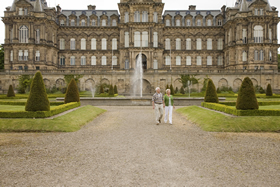 A couple walking hand in hand enjoying the formal gardens of The Bowes Museum in County Durham., Barnard Castle, County Durham, England.
Credit: Britainonview, Co. Durham Tourism Partnership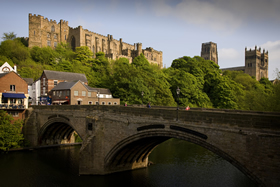 A view of a bridge over the River Wear, overlooked by the castle and Cathedral in Durham., Durham, County Durham, England.
Credit: Britainonview, Co. Durham Tourism Partnership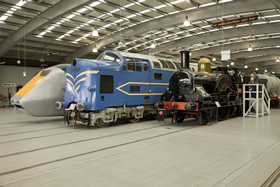 Trains from across the ages at Locomotion, The National Railway Museum at Shildon in County Durham., Shildon, County Durham, England.
Credit: Britainonview, Co. Durham Tourism Partnership