3,700,657 Plymouth Diaspora around the world
How much do you know about Plymouth ?
With a rich maritime history, sweeping ocean views and a growing food scene, Plymouth sure packs a punch. Situated on England's southwest coast, Devon's largest city has served as a launchpad for history-making pioneers, swashbuckling pirates and famous explorers such as Sir Francis Drake – and is home to the biggest naval base in Western Europe.
Often underrated – in part due to damage sustained during Second World War bombings – Plymouth is a resilient city whose star is rising, thanks to several multimillion pound regeneration projects set to transform the city centre.
Historic sites
On 16 September 1620 the Mayflower Pilgrims – many of whom were fleeing religious persecution – set sail from Plymouth to the New World, where they established Plymouth Colony, Massachusetts. Numerous landmarks commemorate their epic journey, most notably the Mayflower Steps, which were built close to the site where the Pilgrims boarded the ship.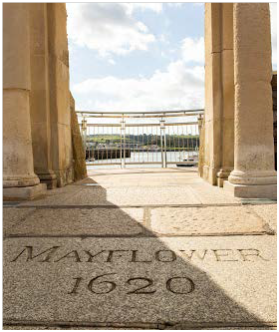 Mayflower Steps
Prior to their departure, many of the Pilgrim Fathers lodged at what is now known as Island House, where today visitors can find a complete list of the Mayflower's 102 passengers; learn more at the Mayflower Museum through interactive displays and exhibitions. 
Plymouth's other historic buildings include Elizabethan House (currently under restoration, reopening in 2020), which provides insight into what living quarters were like in Drake's day; Prysten House, where visitors can find a memorial to American sailors killed in the War of 1812; Plymouth Synagogue, the oldest Ashkenazi Synagogue in the English speaking world; and the Merchant House Museum (also undergoing essential conservation work) which showcases various eras in Plymouth's history.
Due to open in 2020, The Box will bring Plymouth's naval history and ancestral archives to life in its permanent galleries and ever-changing exhibitions, the first of which, titled 'Legend and Legacy', will mark the Mayflower anniversary. Many celebrations and events are happening in 2020 to mark 400 years since the ship's voyage.
Things to see and do
Had your fill of history? The UK's largest aquarium will enthrall wildlife lovers, while souvenir hunters will find plenty of independent stores around Barbican's Southside Street.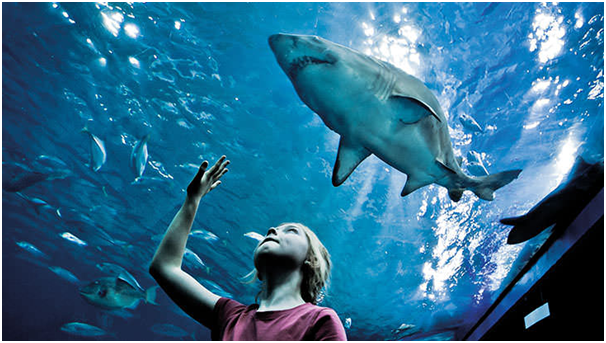 National Marine Aquarium – the largest aquarium in the United Kingdom
The grassy slopes of Plymouth Hoe offer unbeatable views across Plymouth Sound, as well as opportunities to climb revolutionary lighthouse Smeaton's Tower, or take a dip at Tinside Lido – a semi-circular, art deco pool open in the summer months. Water babies might also like to SUP (stand-up paddle board), sail or kayak around the bay, or join a boat trip. 
If dry land is more your style, follow the family-friendly Plym Valley Cycle Path, an off-road route that takes cyclists from the city to the edge of Dartmoor National Park. Plymouth also serves as a great base from which to explore the beaches of Devon and neighbouring county Cornwall.
Where to eat and drink
Plymouth is home to the oldest working gin distillery in England. Established on the site of an ancient monastery in 1793, today's visitors can tour Plymouth Gin Distillery (where the Mayflower Pilgrims are said to have spent their last night) and enjoy a tipple in the adjoining Refectory Cocktail Bar. 
Sustainable seafood is king in this coastal city. Sample some of the best at New England-style restaurant Rock Fish; The Boathouse Cafe; and Platters, the oldest seafood restaurant in Plymouth – or opt for a classic British takeaway at the award-winning Harbourside fish and chip shop. Want more? See the catch come in at Plymouth Fisheries, or plan your visit around the annual Plymouth Seafood Festival in September.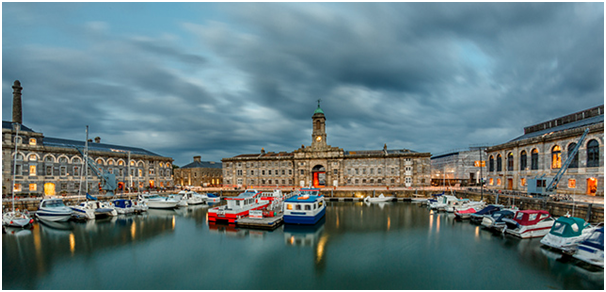 Royal William Yard – Formerly the major victualling depot for the Royal Navy. Now a beautiful leisure area with shops, boat trips, restaurants and accommodation