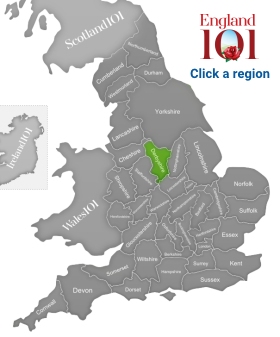 Derbyshire (pronounced "Darby") has a history that goes back some 200,000 years, as a Paleolithic hand axe was discovered near the town of Hopton, while numerous early mounds throughout the county indicate early settlements in the area. The Romans were particularly interested in Derbyshire for the concentration of lead ore in the area's hills, and they built a number of defensive forts, some of which are still in tact today.
When you think of the English countryside, you are most likely thinking of Derbyshire, which is, perhaps, the most English of the English counties. It is the England of Jane Austen, and indeed served as the setting for Pride and Prejudice. In the novel, Elizabeth Bennet even visited Chatsworth House, a stately Tudor mansion overlooking the River Derwent in North Derbyshire. A number of other mansion houses dot the county, including Haddon Hall, which has served as a set for several films, including The Princess Bride, which was also filmed around other parts of Derbyshire.
Derbyshire is also a county heavily associated with natural beauty, especially with the stunning Peak District National Park sprawling across much of north Derbyshire. The first national park to be established in Britain (1951), this lush mountainous area is quietly one of the most visited national parks in the world, and is popular for outdoorsy activities as well as family outings.
Water is also abundant in Derbyshire, which is known for its selection of reservoirs, such as Carsington Water, Ladybower and Derwent reservoirs. Many of these manmade bodies of water are now surrounded by protected land that is free from development and nature reserves that make for great places to hike, mountain bike and walk.
Derbyshire is also home to a number of steam trains, including the Peak Rail and Midlands Railway steam trains. These narrow gauge trains were important for coal and ore transport during the Industrial Revolution, but are now popular visitor attractions.
Highlights:
Peak District National Park
Pride and Prejudice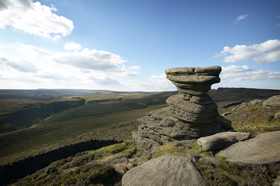 A spectacular view of the Peak District from the top of Whinstone Lee Tor. The Peak District was Britain's first national park, established in April 1951.
Credit: Britainonview, Daniel Bosworth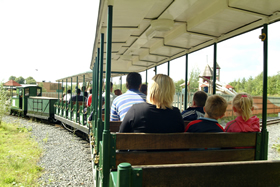 Conkers - heart of the national forest - on a steam train, Moira near Ashby de la Zouch, Derbyshire, England.
Credit: Britainonview, Grant Pritchard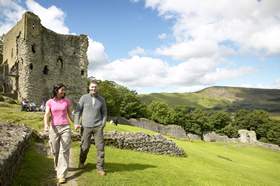 Couple walking around Castleton castle. Castleton is an outstandingly pretty village situated at the head of the lovely Vale of Hope, in the heart of the Derbyshire Peak District National Park.
Credit: Britainonview, Daniel Bos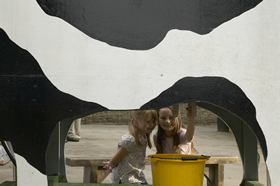 Two young girls learning how to milk a cow in the farmyard at Chatsworth House, a large country house standing on the east bank of the River Derwent., Bakewell, Derbyshire, England