Is it even worth writing about English food?
English food does not have the best reputation. When you ask people about their favorite cuisines, then it is quite unlikely that English cooking would be at the top of their lists. So why bother writing about it? Because – surprise – it is not as bad as people want to make you believe. There is bad English food, but there is also excellent English food. England also has the great advantage that there is a lot of international influence.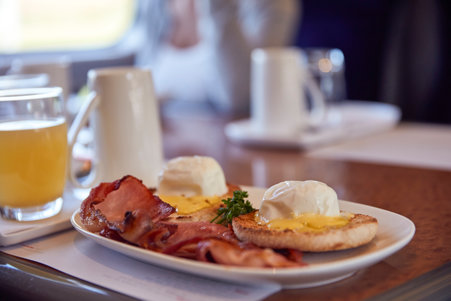 Pub food
England's food might have a bad reputation because of the sometimes quite questionable quality of food in English pubs. So we better get that right out of the way: if you go into a pub and expect high quality dishes, then it's not England's cuisine that is to blame but your judgment. There are excellent pubs that also have decent food, but mainly you will find greasy food in pubs, e.g. pie and fries, or steak and fries, or sausages and fries.... you get the picture. While you should make the experience to go to a typical pub night, you should not make the mistake of confusing English pub food with English cooking in general.
The influence of Jamie Oliver and other cooking stars
In recent years, cooking shows have become surprisingly popular on English TV – and it might very well be that English cooking has improved quite a bit thanks to these shows. The English cook Jamie Oliver also has restaurants all over the place (can be a bit pricey though). He published books, hosts TV shows, and kind of tries to make people cook better. He is not the only TV chef, but definitely one of the reasons why cooking is a more popular topic in England these days.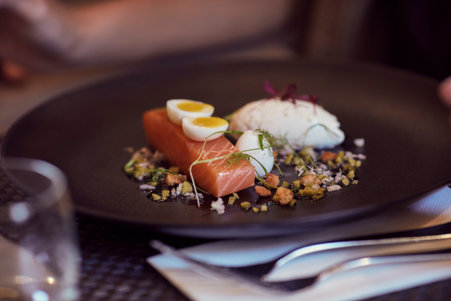 Typical English dishes that are WORTH your time and money
Here are some English dishes that you might want to try in a restaurant or prepare in your own home (some are easy, some are not – it depends very much on your own skills as a cook – you could always look up recipes on Jamie Oliver's site, they are actually quite easy to follow and give you great results).
Toad in the Hole
This is a classic – and it also tastes good (unless prepared by a horrible chef). It basically is a dish that consists of sausages that are baked in a Yorkshire pudding batter. Most people also add vegetables these days to turn it into a more nutritious dish.
Shepherd's Pie
A Shepherd's Pie is an oven-baked dish with mince topped with a layer of creamy, mashed potatoes. The Shepherd's Pie can come in different variations, e.g. not just potato mash but also a leek/potato mash, sometimes also topped with cheese for an additional layer of yumminess. Vegetarian versions are also available and prove to be popular, too (either with chickpeas, a variety of beans, or Quorn meat substitutes).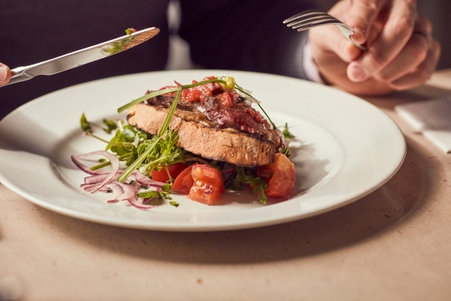 Cumberland Pie
Yes, the English do love their pies very much. And the Cumberland Pie is a rather nice one, too. While it is quite easy to make, it is elegant enough to also serve to guests. The main ingredients are beef (not minced), potatoes and carrots. It is a slowly cooked pie, so it is ideal when you want to prepare something and then just let it cook away on its own.
Roast Beef with roasted veggies
The English love a good roast, and beef roasts are by far the most popular. A good roasted piece of beef is usually also served with a selection of roasted vegetables like potatoes, turnips, parsnips, sweet potatoes, carrots and pumpkins. It is also likely that you will get a side of green peas with your roast.
Lamb with mint sauce
When it comes to lamb roasts, then the English have the habit of putting mint sauce with it. You will either love it (like the English do) or find it a strange combination.
Scones
The English love their scones, usually with cream and jam, and a cup of milky tea at the side. Scones come in some varieties, either plain or with some sultanas. Savory scones are usually more popular in the mornings (wouldn't go too well with cream and jam). In most typical English cafes, you can get good scones all day long. They are also not that hard to bake yourself.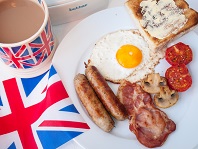 English Food 101
See also: