In association with

411,376 Gloucestershire Diaspora around the world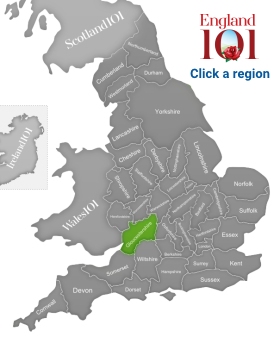 Gloucestershire is one of England's most beautiful counties, a fact that can be attested to by the scores of tourists that visit during the warmer months to take in the vast amounts of natural beauty and historic English countryside here. Tucked away in the southwest of England, Gloucestershire is within easy reach of London, yet retains a rural charm in its small villages, farms and country homes.
The county has two main pride and joys: the Cotswolds, a small mountain range known for its amazing collection of small, honey-hued stone villages, and the Forest of Dean, an Area of Outstanding Natural Beauty that is considered one of England's best forests. Many visitors to Gloucestershire choose to hole up in a stone cottage or bed and breakfast in the Cotswolds and explore the expansive Forest of Dean on foot or bicycle.
Gloucester, the county town, is a buzzing hub in the west-central part of the county, boasts an impressive Norman abbey cathedral built around 1089. Most notably, Gloucester Cathedral served as a set for many of the Hogwart's Castle scenes in the Harry Potter films. Beyond its impressive church, Gloucester boasts a number of attractions, including its historic 18th century docks and Baker's Jewellers, a truly unusual Edwardian timepiece with figure figurines representing England, Scotland, Wales, Ireland and "Olde Father Time".
With such lush countryside to its credit, it's little wonder that Gloucestershire is also known for its delicious cheeses. Indeed, Gloucster cheese is considered among the creamiest and most delicious of the English cheddar cheeses. A particularly strange tradition has evolved around this cheese-making history: The Cooper's Hill Cheese-Rolling and Wake. Held each spring on steep Cooper's Hill in the Cotswolds, for this strange race, contestants roll a round of Double Gloucester cheese down the hill.
Among Gloucestershire's most famous people and residents are ex-Rolling Stone, Brian Jones, London mayor and Pantomime character, Dick Whittington, and Harry Potter author, JK Rowling.
Highlights:
Forest of Dean
Cotswolds
Gloucester cheese roll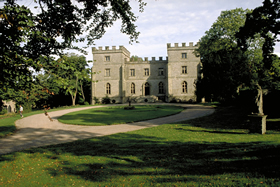 Castle hotel, Clearwell, Gloucestershire, England.
Credit: Britain on View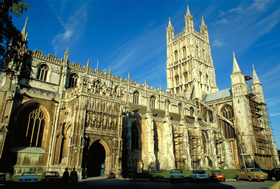 Cathedral, Gloucester, Gloucestershire, England.
Credit: Britain on View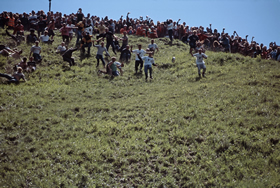 Competitors pursue a Double Gloucester cheese in the annual Cheese Rolling event at Cooper's Hill, Painswick, Gloucestershire, England.
Credit: Britainonview, Olivier Roques-Rogery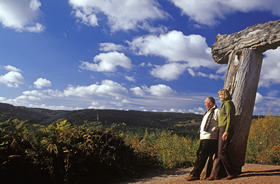 Couple by the Chair sculpture in the Forest of Dean Sculpture Park, Forest of Dean, Gloucestershire, England.
Credit: Britainonview, Jasmine Teer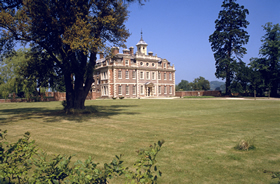 Wallsworth Hall is a fine Georgian mansion house built c.1750 and is now home to Nature in Art, the world's first museum & art gallery dedicated to art inspired by nature.
Credit: Britain on View
How much do you know about Gloucestershire ?