England is one of the European countries that shaped the world of literature as we know it today. If you visited school in an English speaking country, or had English lessons at school, then you will at least have heard of Shakespeare – as teachers love to "torture" their students with that particular writer. And the man did indeed do a lot of good for English and world literature. However, we should not ignore the multitude of other fantastic English authors. Many of them have left an impact on the world – and in this article, we will introduce just a few of them to you.
Shakespeare
Shakespeare – who did not have to deal with him in school or university? Unfortunately, teachers in school often cause the students to hate Shakespeare. This is a pity because the English bard did indeed create quite a few worthy pieces of literature, mainly theater plays (about which you can read more in English theater 101). There also have been quite a few modern adaptions, like movies (Romeo and Juliet), of his work – which might have led to his rising popularity with a younger audience.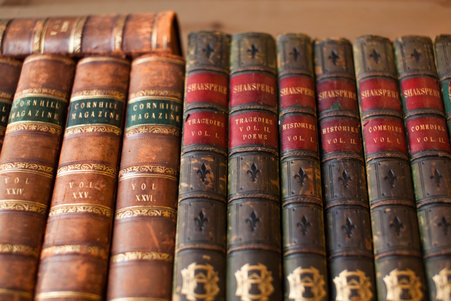 Stroud, Gloucestershire - Second-hand antique books, including works by William Shakespeare
J.R.R. Tolkien
J.R.R. Tolkien, originally born in South Africa, is one of the most famous English authors. The Oxford professor who is mainly known for his works "The Hobbit" and "The Lord of the Rings" Trilogy left a big mark on the world of literature. Without his Gandalf, Frodo, and his fantastic creatures like Smaug and the graceful elves, fantasy literature might never have turned into what it is today (unfortunately, however, not many contemporary authors reach Tolkien's quality of writing). Tolkien, however, was not just a writer of fantasy epics. He also was a very good linguist and did translations of old English texts. His smaller works like "Roverandom" are also often overlooked by people who solely focus on Hobbits, elves, and dwarves.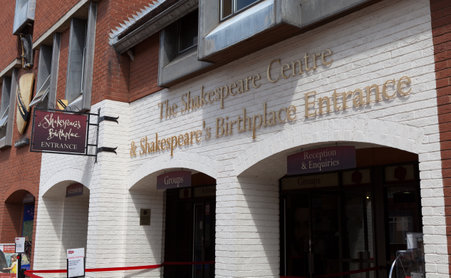 Stratford-upon-Avon, Warwickshire - The entrance to The Shakespeare Centre library and Shakespeare's Birthplace
Charles Dickens
Victorian writer Charles Dickens was another writer whose characters easily found the way into readers' hearts. Many of his novels have also been turned into movies, e.g. "Great Expectations". Some of his best known works are "Bleak House", "Oliver Twist", and of course the famous Christmas novels. During the lifetime of Dickens, publishing was still quite different from what it is now (thousands of books in bookstores, even from never heard of authors). Most of his works first appeared as serials in newspapers and were then published in book form.
J.K. Rowling
Some love her, some hate her, some do not care about the creator of Harry Potter – but one thing is sure: she is one of the bestselling English authors and her Harry Potter books (also turned into movies if you haven't noticed) have influenced a whole generation of readers – and anything that encourages young people to read should be appreciated. She has a huge following of fans, and still produces one or the other book – sometimes under a different name as many famous authors tend to do when they want a book to be appreciated for the story and not for the name of the author written on the cover.
Kazuo Ishiguro
While the name is Japanese, Kazuo Ishiguro sees himself as an English writer. He moved to England with his family when he was still a child, and can also find himself in the "Times" list of the most influential British writers (as all people on this page). Kazuo Ishiguro is mainly famous for his contemporary novels like "Never Let Me Go", however, he has also written one or the other successful screenplay.
C.S. Lewis
C.S. Lewis was a contemporary and friend of J.R.R. Tolkien. His Narnia books have turned into movies (less successful than Tolkien's Lord of the Rings though), and are books that have fascinated young and old readers alike. The books are definitely worth a read even if you did not enjoy the movies. Like Tolkien, he was more than "just" a writer, and was also active as a literary critic.
Roald Dahl
Roald Dahl is often portrayed as a writer of children's books which is not exactly true. Though his books for children like "Matilda" and "Charlie and the Chocolate Factory" have received most of the attention (maybe because they have been turned into movies), the author has a lot more to offer than just material for movies with Johnny Depp. He has also written quite a few short stories (available in various collections), poetry, and a good number of non-fiction.
George Orwell
Of course, the list would not be complete without mentioning the author of classics like "Animal Farm" and "Nineteen Eighty-Four". He was born in India, but did not get to live there for a long time as he moved to Oxfordshire with his family a year after he was born (born in 1903). As an adult, he worked as a teacher, and of course the two world wars also had quite an influence on his life and the stories he was writing.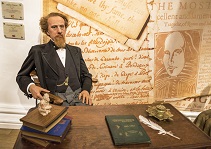 English Literature 101
See also: