In association with

1,238,102 Cambridgeshire Diaspora around the world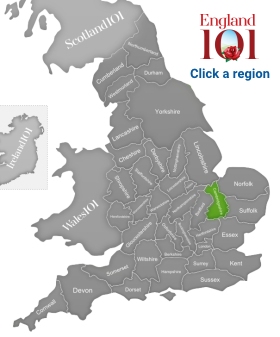 Sprawling across the East Anglia region of eastern England, Cambridgeshire is a non-metropolitan county that shares its name with one of the world's most prestigious colleges, Cambridge University. Set in the picturesque town of Cambridge, which incidentally serves as the county town, Cambridge University is second only to Oxford as the world's oldest English-language university.
Cambridge students are known for their upper class accents, and being home to such a posh university, it is not hard to imagine how Cambridgeshire attracts a fairly well-off crowd of residents and tourists, both of whom like to take advantage of the county's selection of bright country pubs and historic manors and gardens.
Perhaps Cambridgeshire's most influential local was controversial-but-successful 17th century English military commander, Oliver Cromwell, who was born at the Cromwell House in Huntingdon. The town is now home to a museum dedicated to the leader and is also known for its lovely farmers' market.
The town of Cambridge is Cambridgeshire's centre of life. Numerous lively pubs dot the town and are popular among Cambridge University students and professors, who can often be seen engaging in raucous debates over fresh ales. In fact, several big name academics, including astrophysicist Stephen Hawking, are based at Cambridge University.
The River Thames flows through Cambridgeshire, so boating has been a popular pastime here for centuries. In addition to rowing crew, which is a popular sport at Cambridge University, visitors will want to take a relaxing tour of the city in a punt boat. Water lovers will also want to head out to the Fenland, an area of Cambridgeshire once completely underwater and now covered by a series of beautiful fens.
Despite its reputation as a stuffy academic town, Cambridge has produced a number of entertainers, including famous comedians like Stephen Fry, Peter Cook and the people behind Monty Python, who got their start at the Footlights Review here. Likewise, musicians such as Andy Bell of Erasure, Keith Palmer of The Prodigy and three members of Pink Floyd all hail from Cambridgeshire.
Highlights:
Cambridge University
Oliver Cromwell
Footlights Review
Fens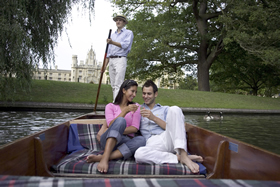 A couple enjoying an early evening river ride on the Cam whilst drinking champagne.
Credit: Britianonview, Rod Edwards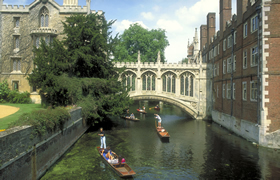 Bridge Of Sighs Cambridge, Cambridge, Cambridgeshire
Credit: Britainonview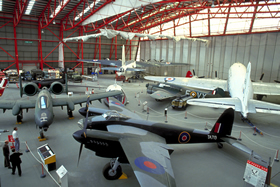 Duxford Airfield Hanger, Duxford, Cambridgeshire
Credit: Britainonview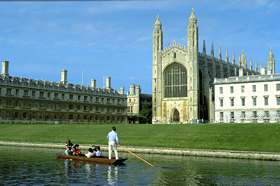 Kings College Chapel, Cambridge, Cambridgeshire
Credit: Britainonview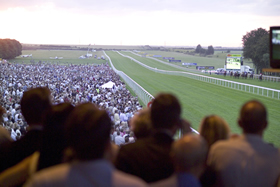 Newmarket races, view through spectators looking out at the finishing line. Newmarket, Cambridgeshire
Credit: Britainonview, Rod Edwards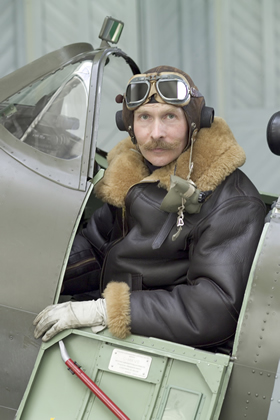 Portrait of flight lieutenant Charlie Brown, sitting in his Spitfire MK VB 1942 BM 597, 317 Polish Squadron markings. Duxford Air Museum, Cambridgeshire
Credit: Britainonview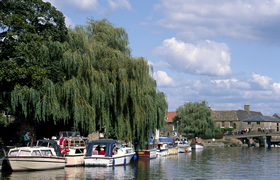 The city of Ely is rich in history, charm and beauty and is the jewel in the crown of the Fens., Ely, Cambridgeshire
Credit: Britainonview
How much do you know about Cambridgeshire ?