In association with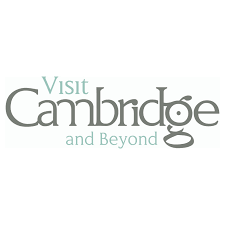 Our in-person family gatherings
Ireland's President Higgins family message
Our TEDx talk about family gatherings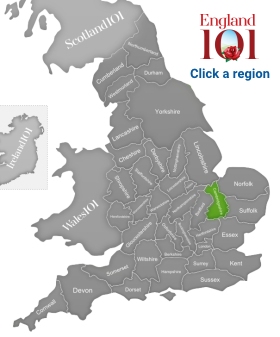 Cambridgeshire is esteemed the world over for its highly revered university, which has been attended by countless thought leaders, including the founder of Harvard University and numerous Mayflower Pilgrims. The county's charming towns blend seamlessly with the surrounding countryside, both of which are speckled with important historic sites and top-class attractions.
Historic sites in Cambridge
Most of Cambridge University's 31 colleges are open to the public. Visit Emmanuel College to see where John Harvard, co-founder of Harvard University, studied (there's a plaque dedicated to him in the chapel, which was designed by Sir Christopher Wren). Other well-known alumni include William Law, who inspired John Wesley; Thomas Sheppard, a Puritan minister who helped establish Cambridge, Massachusetts; and 29 other Mayflower passengers.
Another Mayflower Pilgrim, William Brewster, was educated at Peterhouse, the oldest college in Cambridge. He developed his separatist ideas here, before going on to become a senior leader in the Plymouth Colony. Next door at Little St Mary's Church you'll find a monument to Reverend Godfrey Washington, George Washington's great uncle, who's buried here. The monument features the Washington family coat of arms, elements of which feature on the US flag.
For a glimpse at some of the most beautiful architecture at the University, buy a ticket to visit the King's College chapel, a medieval masterpiece with stunning stained-glass windows, a huge fan-vaulted roof and the Rubens masterpiece, Adoration of the Magi. Corpus Christi's Parker Library holds various ancient manuscripts and rare texts, including the Gospels used by St Augustine to convert the English to Christianity – book a tour with Visit Cambridge.
St Edward King and Martyr and Great St Mary's Church both played key roles in the English Reformation; the former was used as a meeting place for evangelicals, including preacher and martyr Robert Barnes, while the latter was where influential Reformation supporters such as Erasmus and Bucer spread their teachings – be sure to climb the tower here for panoramic views of Cambridge.
Other notable churches in the county include The Church of the Holy Sepulchre, one of only four round churches in England; Peterborough Cathedral, where Mary Queen of Scots and Katharine of Aragon are buried; and Ely Cathedral, a striking building set amid flat fenland known for its beautiful architecture and grounds.
Things to do in Cambridgeshire
Pay a visit to the Cambridge American Cemetery on the city's outskirts, where 3,811 Americans killed during WWII are buried; The Walls of the Missing commemorate another 5,127 who went missing in action. The adjoining visitor centre illustrates the importance of the Allied contributions in Europe during the Second World War. Save some time for a trip to the Imperial War Museum at Duxford, home to an impressive collection of WWII aircraft, as well as the American Air Museum, which recounts various real-life stories spanning from the First World War to 9/11 and beyond.
Hungry for more marvels of engineering? Explore over 200 years of technological advancements at the family-friendly Centre for Computing History.
See the city from a different perspective with a punting tour along the River Cam, or head to the Fens – a vast area of flat, wildlife-rich land – to cycle through the countryside on one of the trails around Wisbech.
Punting

Credit: Visit Britain, JJF arquitectos

Punting

Credit: Cambridge BID, RMG Photography
Best Restaurants in Cambridge
If your tastebuds are calling for something quintessentially British, the refined-yet-playful classics on offer at Parker's Tavern will not disappoint. Book a table at Midsummer House to taste food worthy of not one but two Michelin stars – or opt for oysters at Trinity Restaurant.
For food with a view, try The Anchor, which serves pub grub and local beers on its riverside terrace.
Outside of the city, The White Pheasant in Ely serves a scrumptious Sunday roast, while The Eltisley's pub garden is great for sunny days. Beer buffs should swing by The Bank in Willingham, Cambridgeshire's first micropub.
Highlights:
Cambridge University
Oliver Cromwell
Footlights Review
Fens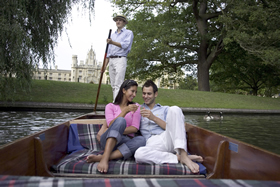 A couple enjoying an early evening river ride on the Cam whilst drinking champagne.
Credit: Britianonview, Rod Edwards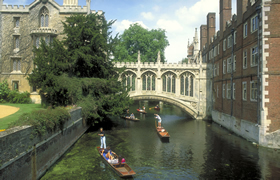 Bridge Of Sighs Cambridge, Cambridge, Cambridgeshire
Credit: Britainonview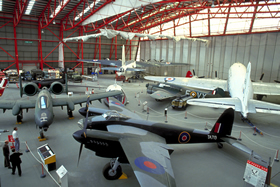 Duxford Airfield Hanger, Duxford, Cambridgeshire
Credit: Britainonview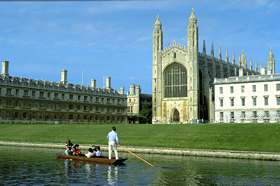 Kings College Chapel, Cambridge, Cambridgeshire
Credit: Britainonview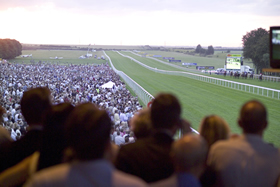 Newmarket races, view through spectators looking out at the finishing line. Newmarket, Cambridgeshire
Credit: Britainonview, Rod Edwards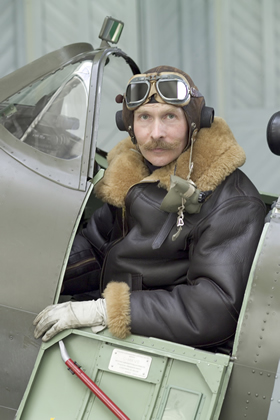 Portrait of flight lieutenant Charlie Brown, sitting in his Spitfire MK VB 1942 BM 597, 317 Polish Squadron markings. Duxford Air Museum, Cambridgeshire
Credit: Britainonview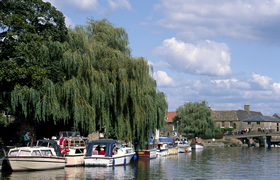 The city of Ely is rich in history, charm and beauty and is the jewel in the crown of the Fens., Ely, Cambridgeshire
Credit: Britainonview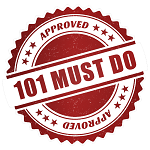 101 Must-Do' ways to live your regional connection.
Our 101 team have been working with local tourism, business, community and Council initiatives to bring you some of the best ways for you to live your connection to Cambridgeshire.
Community