Situated in the north-west, Manchester is England's unofficial 'capital of the north'. Historically part of Lancashire, along with Liverpool and Merseyside, the city is known for its unparalleled role in the Industrial Revolution, a world-class University – it was here that Rutherford split the atom and Turing pioneered artificial intelligence – and a boundary-pushing art and music scene.
Historic sites
Manchester's neo-Gothic Town Hall – closed to visitors until 2024 – symbolises the prosperity of the city during the Industrial Revolution. Manchester Cathedral – the widest in England – dates back to the 7th century and features some well-preserved Medieval woodwork. Free taster tours run from Monday to Saturday.
Founded in 1653, Chetham's Library is the oldest public library in the English-speaking world and key figures such as Benjamin Franklin and Karl Marx have studied in its intricately-carved reading room. The beautiful John Rylands Library is also a delight to wander, and the shelves are packed with literary treasures.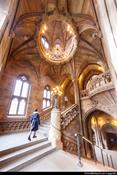 John Rylands Library
Credit: Visit Britain, Loic Lagarde
Emmeline Pankhurst, women's rights activist and a key figure of the suffragette movement, was born in Manchester in 1858. Today her home on Nelson Street, where the first suffragette meetings were held, is named the Pankhurst Centre and is occasionally open to visitors.
Despite its reliance on American cotton in the 19th century, Manchester supported Abraham Lincoln's embargo and the abolition of slavery. A statue of the US president, which marks this historic connection, can be found in Lincoln Square. Make time for a trip south to Quarry Bank Mill, where noisy machinery and eye-opening exhibitions bring the working conditions of the time to life.
Things to do
The University-run Manchester Museum displays a vast array of artefacts, with collections covering everything from natural history to modern technology. The Museum of Science and Industry celebrates big ideas that changed the world, including the Industrial Revolution – the Textiles Gallery tells the story of the cotton mills that transformed Manchester during this period. Dive into the human side of history at the People's History Museum, where displays highlight key events themed around democracy and social justice, such as the Peterloo Massacre. Alternatively, explore the impact of warfare around the world at the architecturally astounding Imperial War Museum North. For an immersive WWII experience, visit the Stockport Air Raid Shelters.
Manchester boasts two world-famous football teams, United and City. Choose between these bitter rivals and tour your favourite club, or visit the National Football Museum for an in-depth and interactive look at the beautiful game.
The National Football Museum

Credit: Visit Britain, Andrew Pickett

Manchester United Football Stadium, Old Trafford

Credit: Visit Britain, Andrew Pickett

Manchester City Football Ground at Etihad Stadium

Credit: Visit Britain, Bray Leino
Manchester is a creative city – the abundant street art (particularly in the Northern Quarter) is a testament to that. More formal exhibition spaces are also world-class: see Manchester Art Gallery and the Whitworth Gallery, or explore The Lowry arts centre to browse pop-up galleries in amongst theatrical performances and workshops. Music-wise, Greater Manchester has nurtured some of the UK's best bands, including The Smiths, Oasis, Buzzcocks, New Order and Joy Division. Catch a gig at historic venue Band on the Wall to listen to some of the latest local talents.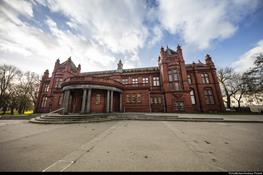 Manchester Whitworth Gallery
Credit: Visit Britain, Andrew Pickett
Active families will love learning to ski or snowboard at Chill Factore, the UK's longest indoor real snow slope, or getting to grips with colourful bricks at Legoland Discovery Centre.
Food and drink
Manchester is known for its legendary Curry Mile – a stretch of Wilmslow Road south of the city centre packed with international restaurants – as well as classic northern dishes like meat pies (try Pie and Ale for starters). But the food scene here offers so much more.
The Northern Quarter's trendy food hall Mackie Mayor serves up a whole manner of street eats, while Pollen Bakery serves up artisan bread and brunches. Want an upmarket meal? Take your pick: The French at the Midland Hotel is led by award-winning chef Adam Reid; Mana is renowned for its unusual tasting menus; and Stockport's Where the Light Gets In – found in an ex-coffee warehouse – has no menu, an entirely open kitchen and glittering reviews. Join a Scranchester Food Tour for a taste of Manchester, with a little history thrown in. Manchester's beer scene is booming, too. Visit Beermoth or Alphabet to sample some of the best brews in the city.
Mackie Mayor

Credit: Visit Britain, Claire Harrison

The French

Credit: Visit Britain, Ben Selway

Where the Light Gets In

Credit: Visit Britain, Kathryn Wood

Scranchester Food Tours

Credit: Visit Britain