Our in-person family gatherings
Ireland's President Higgins family message
Our TEDx talk about family gatherings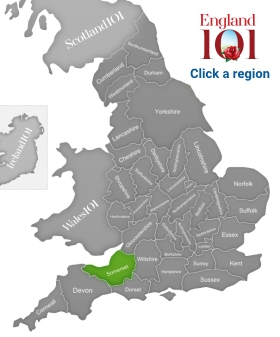 Situated in the southwest of England, Somerset is a verdant region packed with grand history and natural wonders, plus myth, legend and mystery. From its Unesco World Heritage Site, the city of Bath, to the breathtaking Mendip and Quantock Hills and beyond, Somerset offers a unique perspective on British history and culture.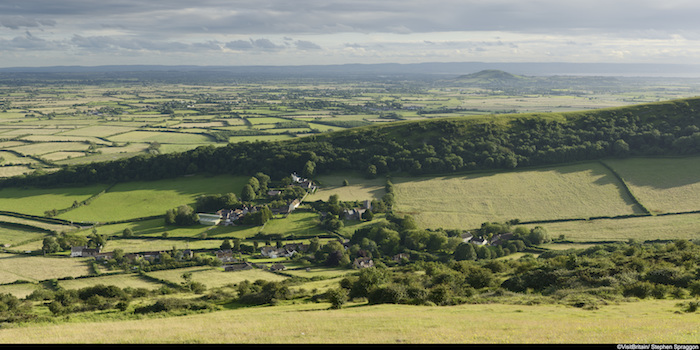 Mendip Hills
Credit: Visit Britain, Stephen Spraggon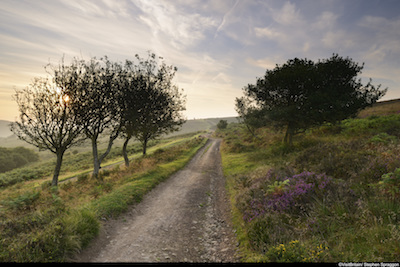 Quantock Hills
Credit: Visit Britain, Stephen Spraggon
Historic sites
Bath is one of England's most famous spa towns. Learn about the mineral-rich thermal waters which flow beneath the city and the people who bathed in them many centuries ago at the popular Roman Baths, or experience them for yourself on the rooftop pool of Thermae Bath Spa.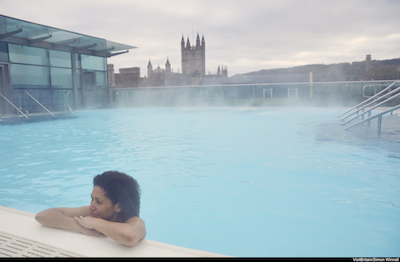 Thermae Bath Spa
Credit: Visit Britain, Simon Winnall
Glastonbury is known for its annual music festival, but it is also home to numerous historic sites. Wander the ruins of Glastonbury Abbey, whose downfall came with Henry VIII's dissolution of the monasteries; or scale nearby Glastonbury Tor, a steep green hill topped with an ancient tower – both sites have links to the legend of King Arthur.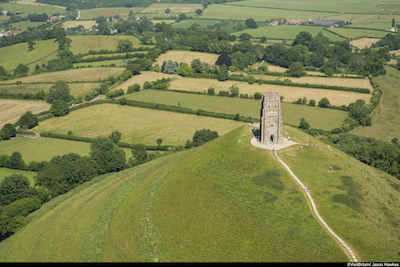 Glastonbury Tor
Credit: Visit Britain, Jason Hawkes
A stunning example of Elizabethan Renaissance architecture, Montacute House is over 400 years old and features the longest long gallery in England, which displays myriad Tudor and Elizabethan portraits. American soldiers lodged in the surrounding parklands in the lead up to the Normandy landings of World War II.
Explore 1,000 years of history and hunt for ghosts at Dunster Castle before meandering through the well-kept gardens and visiting nearby Dunster Working Watermill, which produces stoneground wholemeal flour. Alternatively, visit the pretty grounds of Fyne Court, once home to an eclectic scientist whose electrical experiments are said to have inspired Mary Shelley to create Frankenstein.
Wells may be England's smallest city, but it houses one of Somerset's biggest attractions: Wells Cathedral. The first in England to be built in the Gothic style, cathedral highlights include a large, well-preserved, 14th-century stained-glass Jesse window and an ancient and intricate clock face, which is still in use today.
Things to do
Featuring textiles, furniture and folk art, Claverton Manor's American Museum and Gardens, near Bath, is the only museum outside of the US which showcases American decorative arts – and it also outlines America's history in a series of interactive displays.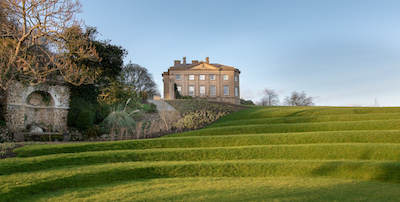 Claverton Manor
Credit: Peter Hall
Fleet Air Arm Museum is Europe's largest naval aviation museum, housing over 90 aircraft and over 30,000 artefacts. Notable exhibits include a Concorde 002 and a collection of World War II aircraft, including some used during D-Day.
For a different kind of transport experience, hop aboard the West Somerset Railway. Ideal for families and steam train fans, this is the longest heritage railway in England, taking in 20 miles of rural and coastal scenery.
If you're after something a little more active, get tickets for the Wookey Hole Caves, a series of limestone caves made accessible for the public. Highlights include the famous Cathedral Chamber and the spooky Witch's Kitchen. There's lots more to see and do at Wookey Hole too, including a circus show, animatronic dinosaurs and a magical mirror maze.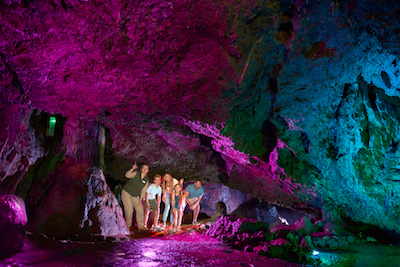 Wookey Hole Caves
Credit: Wookey Hole Caves
Somerset is remarkably scenic, and covers the lion's share of Exmoor National Park, as well as the Mendip and Quantock Hills. But it is most famed for Cheddar Gorge, a dramatic natural landmark ripe for exploring on foot, or by more adventurous means such as rock climbing or adventure caving. Exmoor's Tarr Steps are also noteworthy – the stone bridge known as a clapper bridge is the longest surviving in Britain.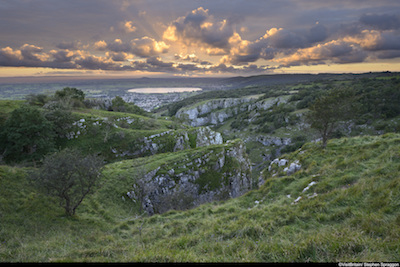 Cheddar Gorge
Credit: Visit Britain, Stephen Spraggon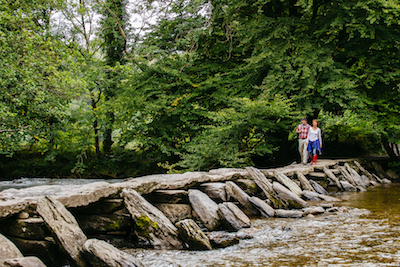 Tarr Steps, Exmoor
Credit: Visit Britain, Ben Selway
Avid readers should make time for the Jane Austen Centre to learn more about the writer's life and how Bath influenced her classic tales.
Food and drink
Somerset is cider country, so be sure to try some on your travels. Swing by the likes of Wilkins, Torre and Perry's cideries to taste this traditional beverage at the source. Prefer pints of bitter or craft IPAs? Try Quantock Brewery or Hare Brewery instead.
When it comes to fine dining, Pony and Trap in Chew Magna and Bath's Olive Tree won't disappoint – both have Michelin stars and cater well for vegetarians. If you like to roll out bed for a top-notch breakfast, or vice versa after a delicious evening meal, book a room and a table at Bath Priory or The Sorrel at Ston Easton.
In Wells, opt for local favourite Goodfellows for European dishes with a seafood focus, or dine al fresco at the Archangel in Frome.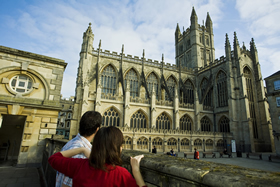 A couple looking up at the historic Bath Abbey, the last great gothic church in England, from the Roman Baths in Somerset.
Credit: Britainonview, Simon Winnall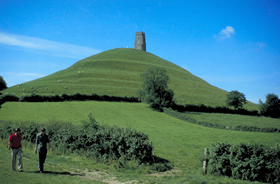 A couple walking across a field below Glastonbury Tor, a place associated with many myths and legends.
Credit: Britain on View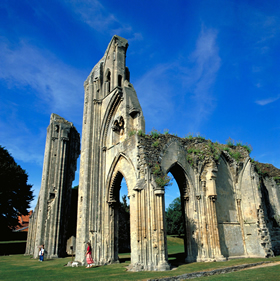 Abbey ruins, Glastonbury, Somerset.
Credit: Britain on View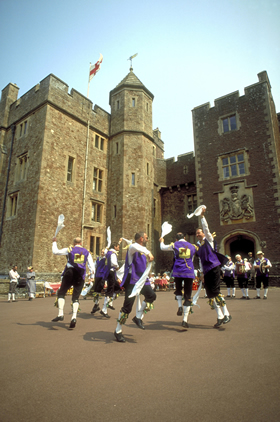 Morris Dancers Victorian Festival, Dunster, Somerset.
Credit: Britain on View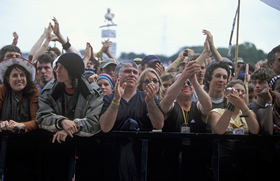 Older members of the audience enjoy the performance just as much as the younger ones!, Glastonbury, Somerset.
Credit: Britainonview, Jon Spaull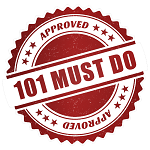 101 Must-Do' ways to live your regional connection.
Our 101 team have been working with local tourism, business, community and Council initiatives to bring you some of the best ways for you to live your connection to Somerset.
Community