Our in-person family gatherings
Ireland's President Higgins family message
Our TEDx talk about family gatherings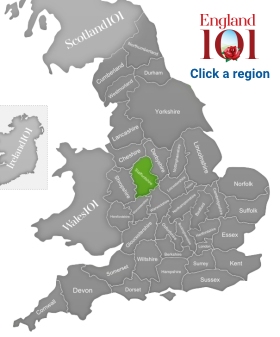 A landlocked county in the West Midlands of England, Staffordshire is remarkably green and stunningly beautiful. The northern part of the county rises to meet the heights of the Peak District, Britain's first designated National Park. The scented meadows and rolling hills of the region make for a rejuvenating sight for the eyes and the regin also boasts of a rich history and cultural heritage which is evident even within its modern lifestyle. The northernmost part of Staffordshire is known as the Staffordshire Moors, a region of great natural beauty. Cannock Chase forms the southernmost part, while low and undulating planes lie between the two highlands on either side of the county. River Trent flows through Staffordshire as an important source of vitality.
Given the fact that Staffordshire is rich in iron ore and coal deposits, the region has seen the rise and fall of many mines. The present economy is substantially robust, with many industries having set up their headquarters in the county. Heavy equipment manufacturer JCB have their headquarters in Rocester while the Britannia Building Society is based in Leek. Many of the world's largest pottery manufacturers also have their branches here in Stoke-on-Tent, a small cathedral city in Staffordshire.
In recent years, the unique rugged beauty of Staffordshire has managed to generate a lot of tourist interest. The natural beauty of Staffordshire Moors, the Peak District and Cannock Chase woo outdoor enthusiasts all over the world and they come seduced by the mesmerising hiking trails, miles and miles of rolling landscape and a kind of rugged spirit unique to the hinterlands of Staffordshire. The beautiful Mow Cop Castle in Staffordshire Moors is a must visit according to any tourist itinerary. Other major tourist attractions include the theme park Alton Towers, the Lichfield Cathedral, Eccleshall Castle, Hanley Park, Dovecliff Hall, Croxden Abbey and Gladstone Pottery Museum.
A unique combination of architectural wonder, cultural heritage and sensational natural beauty, Staffordshire is a treasure to discover, one place at a time.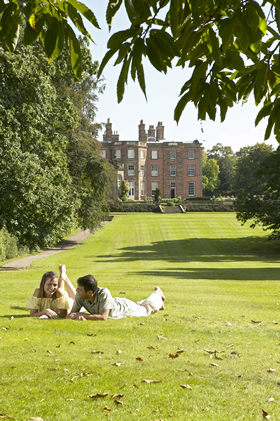 A couple relaxing together in the gardens at Weston Park, a 17th century Hall and Grade I listed building in Staffordshire. Credit: Britainonview, Daniel Bosworth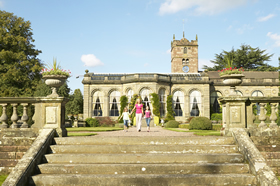 A mother and her two daughters approaching a flight of steps in the Italian garden at Weston Park. Credit: Britainonview, Daniel Bosworth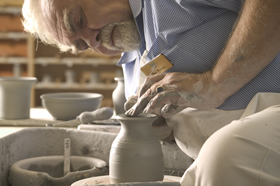 A potter giving a demonstration at the Wedgwood visitors centre, Barlaston, Staffordshire. Credit: Britainonview, Martin Brent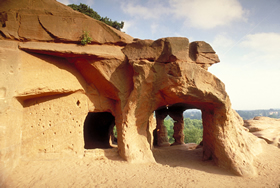 Ancient Cave Dwellings, Kinver Edge, Staffordshire Credit: Britain on View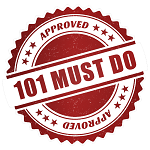 101 Must-Do' ways to live your regional connection.
Our 101 team have been working with local tourism, business, community and Council initiatives to bring you some of the best ways for you to live your connection to Staffordshire.
Community