England is the biggest country in the United Kingdom, yet, compared to, say, the United States it's a very small country. Still, England contains over fifty million people, crammed into an area the size of Alabama. Can you imagine fifty million people crammed into Alabama? Despite this small size, England is a land of diversity - in its landscape, people, and cultures. This article will try to get to the key differences you will experience if you ever get to visit England.
England's Regions
England is divided into counties, ceremonial, metropolitan and non-metropolitan. Each of these has its own definition, and there will often be disagreement as to what constitutes a county and what does not. In the end, it doesn't really matter. This article will focus on the major regions instead. These geographical designations are officially recognized by the British government, and you will often see them in news articles about England and most travel guidebooks are divided up by these regions.
Greater London is an amalgamation of former boroughs and counties that now make up what the world calls 'London'. The border is generally considered to be the M25 ring road motorway around the capital, but this is a not a hard border. London is home to over 8 million people and is approximately 600 square miles in size.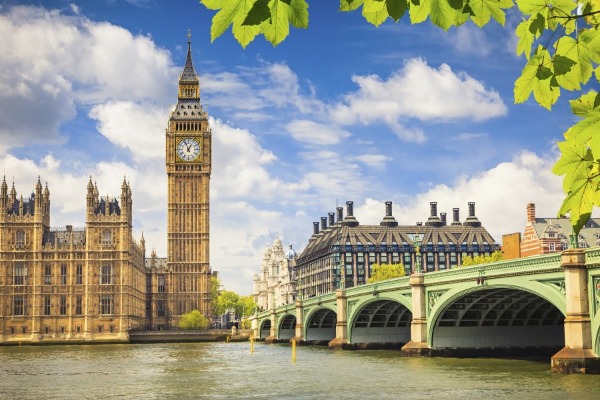 London
Credit: Shutterstock
The Home Counties
This is not an official designation, but it's a term that you will often hear when learning about England's history. The home counties are generally considered to be the counties that directly surround Great London. This consists of Berkshire, Buckinghamshire, Essex, Hertfordshire, Kent, Surrey, and Sussex. Sometimes Bedfordshire, Cambridgeshire, Hampshire and Oxfordshire are also included in the definition. It just depends. But generally it's the counties that would be within the London commuter belt but outside Great London.
The South East
The South East is 7,373 square miles in size and is home to almost nine million people - more than London itself! It consists of many of the counties that make up the 'Home Counties' above such as Berkshire, Buckinghamshire, East Sussex, Hampshire, Kent, Oxfordshire, Surrey, West Sussex and the Isle of Wight. It's the third-largest region in England. It contains major cities such as Oxford, Portsmouth, Southampton, Winchester and Dover. It's also directly connected to France through the Channel Tunnel in Dover. This area, usually encompassing Kent is often called the 'Garden of England.' Its warm temperate climate and concentration of castles and stately homes make it a particularly beautiful part of England.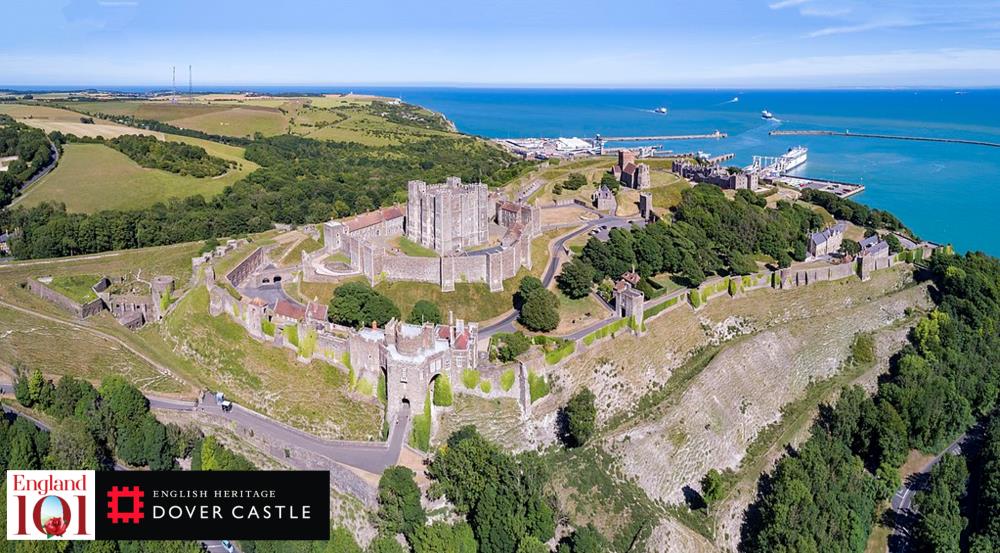 Dover Castle, Kent, England
Credit: Shutterstock
The South West
The South West is England's largest region by size - 9,200 square miles with a population of just over 5,000,000 people. It encompasses the counties of Bristol, Cornwall, Dorset, Devon, Gloucestershire, Somerset, and Wiltshire (the Isles of Scilly off the coast of Cornwall are generally included as well). It's home to major cities like Bristol, Bath, Swindon and Plymouth and contains four World Heritage sites, including Stonehenge. The area is mostly made of the former Kingdom of Wessex. It has a rich heritage and is folklore rich in tales of King Arthur. The area is also home to many of England's most famous writers such as Agatha Christie and Thomas Hardy.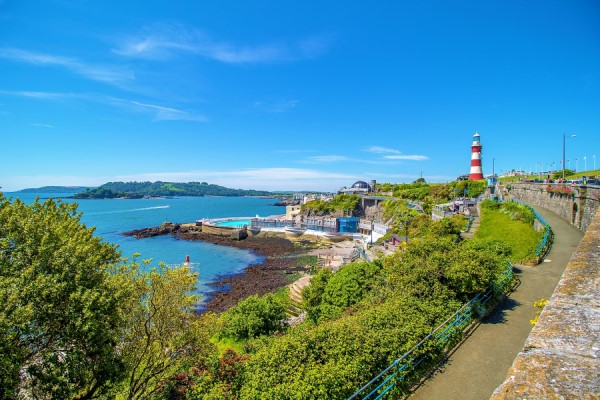 Plymouth, England
Credit: Visit Plymouth
The West Midlands
This area, located North of London, practically in the middle of England, contains the counties of Herefordshire, Shropshire, Staffordshire, Warwickshire, West Midlands and Worcestershire. It's 5,000 square miles in size and home to 5.6 million people, mostly concentrated in Birmingham and the surrounding suburbs. It also contains the major cities of Birmingham and Coventry. This was England's industrial heartland, in fact, the industrial revolution started in Shropshire in the Ironbridge Gorge area (where the first Iron bridge is still located). It was also the birthplace and home of William Shakespeare. Its industrial heyday is long gone, leaving a rich heritage of factories, mines and towns that can still be explored in a beautiful and quiet landscape.

Ironbridge, Shropshire, England
Credit: Shutterstock, Adrian Baker
The East Midlands
This area located North of London, but to the east, is 6,034 square miles in size and home to 4.5 million people. It contains the counties of Derbyshire, Leicestershire, Lincolnshire, Northamptonshire, Nottinghamshire, and Rutland. It's home to the major cities of Derby, Leicester, Lincoln and Nottingham. This area also has a similar industrial pedigree as it's height The West Midlands, home to the Corby steelworks. The River Trent was a major source of industrial development. Many trains are still manufactured in this area. But it's also played an important economic role in the history of Britain as home to the major northern routes through Britain. Lord Byron and D.H. Lawrence are two of the most famous authors to come from the area. The jet engine was invented here.
East of England
This area, occupying the 'mitt' on England's eastern coast, is 7,380 square miles in size and home to 5.8 million people. Its largest area is the county of Essex, where large numbers of East End Londoners resettled after World War II (many in 'new' towns). It contains the counties of Bedfordshire, Cambridgeshire, Essex, Hertfordshire, Norfolk, and Suffolk. This area is largely flat and featureless but is also known as the 'breadbasket' of England as the soils were very rich. It has the lowest elevation, on average, of any places in England. It was easy to create large, flat farms with the same crops. It's a centre of knowledge, based around Cambridge University. There were also lots of American airbases here, a vestige of World War II as there were lots of airbases here because of the close proximity to continental Europe. Radio was invented in Chelmsford. It also contains the Queen's personally owned Christmas holiday home at Sandringham. Close to London, many areas, especially Essex, are in the London commuter belt.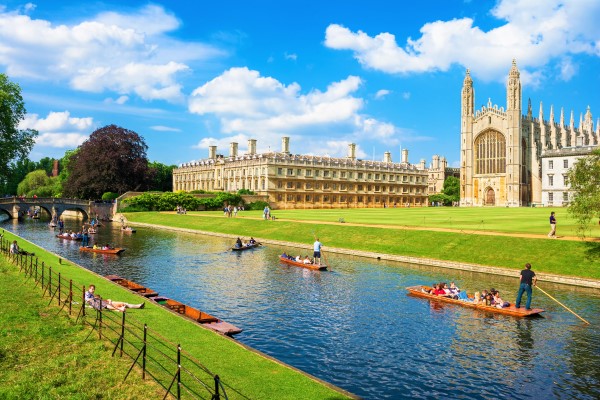 Punting along River Cam near Kings College, Cambridge city, Cambridgeshire, England
Credit: Shutterstock, Premier Photo
Yorkshire and the Humber
Occupying a big chunk of the North of England, Yorkshire is by far England's biggest single historical (though it's now been split up into four smaller counties). It clocks in at 5,950 square miles and has a popular of 5,283,733. Most of this population lives in the large cities that are in Yorkshire such as York, Leeds, Hull, Bradford, and Sheffield. Other than the large cities, the rest of the county is largely rural, featuring the landscapes of the Yorkshire Dales and the Yorkshire Moors, both of which are National Parks.
Yorkshire is an achingly beautiful landscape but has also had its fair share of economic troubles. The cities used to be centres of industrial production, but many of those days are long gone. As are the coal mines which were closed in the 1980s. Yorkshire has had to adapt and change with the times, sometimes not so successfully. This part of England is considered very remote from London and locals dislike the attention given to London in the economy. There has even been talks of establishing a regional parliament in Yorkshire to take more control of their own affairs.
North West
This bit of England is the Northwestern bits of England, the neighbour to Yorkshire and the North East. This region contains some of England's largest cities outside of London such as Manchester, Liverpool, Warrington, Preston, Blackpool, and Chester. It's home to over seven million people. This area has a big industry and Liverpool, was at point one point, one of the busiest ports in the world during the height of the British empire.
This area has struggled with the de-industrialization of England but thanks to huge investments in the area, it's going through a bit of a renaissance. Liverpool is world-famous as the home of the Beatles, the hit rock band that took the world by storm during the 1960's British music invasion. Despite the large cities, there are large rural areas, and this piece of England contains the Lake District National Park, a world heritage site known for its beautiful lakes, mountains and valleys.
North East
This final bit of England is the northernmost reach of the country. It's long been a historically volatile area because it is part of the borderland between England and Scotland. The border city of Berwick-upon-Tweed has changed hands countless times between the two countries (to this day it has both a Scottish and English feel). This area of England is the least populated region in the country, with only 2.5 million people. The largest city if Newcastle upon Tyne, while Sunderland, Durham and Hartlepool also feature.
Durham is considered one of the finest cathedrals cities in Europe and the Norman Cathedral is also a World Heritage Site. This part of England is more rural; there are lots of castles as well as ruins. In its history, heavy industry was big on the Tyne river - with shipbuilding being a big industry. Those days are long gone now. This area has always been a bit of a borderland, as Hadrian's Wall, the wall separating the Roman province of Britannia from the Barbarian up north, runs through the area. The coast to coast Hardiran's Wall walk begins in Newcastle and goes through some of the most beautiful scenery in England. This area is remote, and one of the least visited places by foreign tourists. But many people have ancestors who came from this area and moved to the new world seeking new opportunities.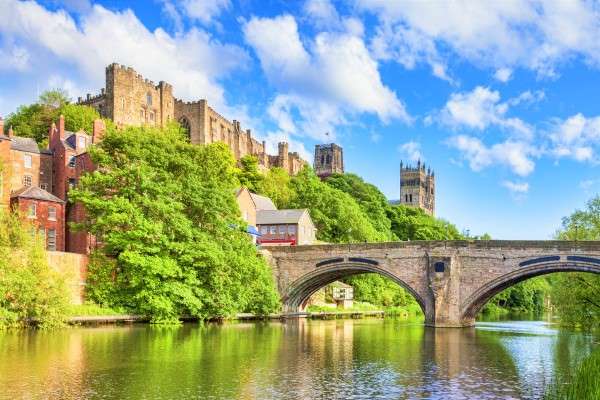 Durham Castle and Cathedral, Framwellgate Bridge spanning the River Wear, Durham, England
Credit: Shutterstock, travellight
North/South Divide
London is the powerhouse of the British economy as well as the southern counties. As Britain's economy changed and the impact of de-industrialization took shape, Northern England has often been left behind economically and culturally. It's interesting to note that this has always been the case in English history and isn't a recent development. There is great debate as to where 'The North' begins and 'The South' ends. Some people joke that 'The North' beings at the Watford Gap outside of London. It's very true that Northern England continues to lag behind the rest of England. This is despite considerable investment in the area. There still needs to be more. More people live in Northern England than in London, yet London continues to get the lion share of infrastructure investment. If you want to know how bad it can be, try to get a train from the East in Northern England across to the West. It's very difficult and quicker to drive.
Geography Basics
England's most notable geographic feature is that it's green. It's green everywhere. One perk of its maritime climate, warmed by waters from the Caribbean gulf stream is that England is usually very mild year-round. The grass is always green. Even in the deepest, darkest winter days, England stays green. That's why the English are always harping on about their 'Green & Pleasant Land.' Because it's always green and always pleasant. There are no deserts in England.
It's next biggest geographical feature is its coastline. It has almost 2,800 miles of coastline. It varies from rocky outcrops that drop right into the sea to gentle sandy beaches that roll right into the ocean. England's coast has played an immense role throughout its history, and it continues to this day. There are five seas bordering England: The North Sea, English Channel, Celtic Sea, Bristol Channel and the Irish Sea.
If there was one geographic feature that everyone imagines about England, it's its gently rolling hills. And it's true; there are gently rolling hills everywhere. However, there are still flat landscapes in England. For example, the Norfolk Broads and Cambridgeshire Fens are so flat; they would give Kansas run for their money.
There are mountains in England, though it's easy to confuse them for hills. The most famous are the Pennines that run through Yorkshire. There's also the Peak District, which are the southern bit of the Pennine mountains. Then there are the 'fells' in the Lake District, where England's highest peak - Scafell Pike is located.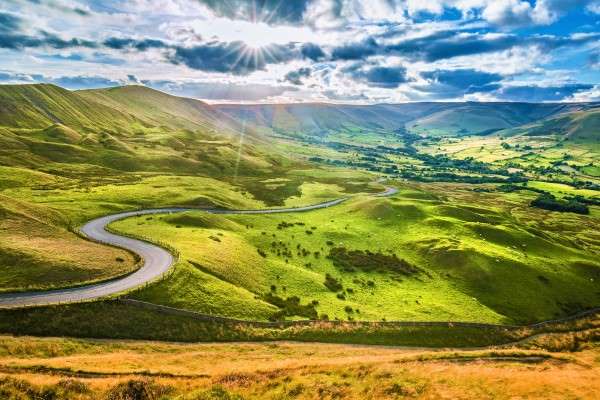 Peak District
Credit: Shutterstock, EddieCloud
Rivers
The most famous river in England is the Thames, which starts in Oxfordshire and then meanders through England until it reaches London and then flows all the way to the sea. At one point, the Thames was a centre of World Trade. While it's the most famous river, it's not the longest. The longest river is the Severn, at just over 200 miles and runs through the borderlands between England and Wales. Other notable rivers include the Mersey, which runs through Liverpool and was also known for its ports during the heyday of the British empire and the Tyne, where many of Britain's great ships were built.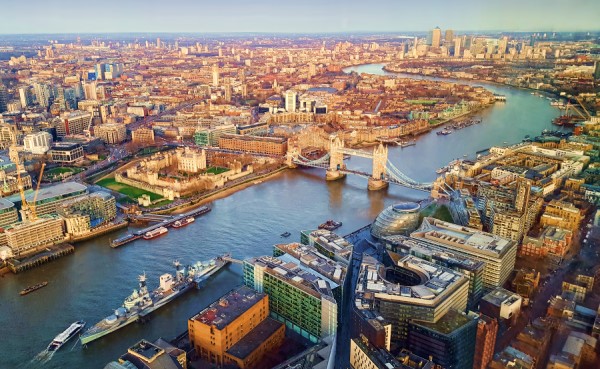 The river Thames, London
Credit: Shutterstock.com
Governance
England's centre of government is, of course, London. It's the largest country in the United Kingdom, so it sends the most MP's to Parliament in London. The United Kingdom has a very strong central government that controls many aspects of local life throughout England. Despite this, there are local authorities.
Each county in England has its own council which manages local affairs. Councils usually handle things like transport, garbage collection, social care, etc. But this varies. Many of England's largest cities have their own councils that handle matters related to the city (which can overlap with county councils, but then some cities have are authorities - it can get complicated).
Each county is divided into local civil parishes (they have roots in the old Church parishes, but no longer have anything to do with the Church). These local parish councils handle smaller matters and are always run by locals elected to the positions. Many cities have mayors, but mayors are often ceremonial role with town or parish councils wielding the real power. There has been a movement for Britain's largest cities to have elected mayors with real, tangle power. London was the first. Manchester recently got their own mayor.
Greater London is a bit more complicated. For the longest time, there was no central authority in London. But that changed in 2000. Now, Greater London is made of 32 London boroughs that have been separated from the former counties they were a part of. These boroughs have their own councils. The City of London is not a borough, but it's own self-governing corporation (it's complicated). To add more confusion to it, Londoners elect representatives to the London Assembly, which acts as a legislative body for London. Above all of this is the Mayor of London who has considerable executive power, especially over London Transport.
England's Most Beautiful Places
England is full of beautiful places. Some would argue that it's simply the most beautiful place in the world. You can easily take a train or drive in a random direction and discover the most beautiful place you've ever been to. Here's a list of five of the most beautiful places you should visit:
1. The Lake District - This combination of beautiful lakes with glorious mountains and valleys make this one of the most beautiful places in the world that has inspired artists and writers for centuries.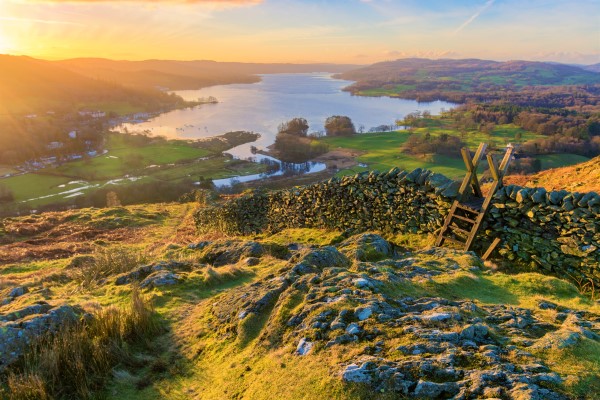 Lake Windermere, Lake District, Cumbria, England
Credit: Shutterstock, Daniel_Kay

2. Dorset's Jurassic Coast - Made famous recently by the hit TV show Broadcjhurch, the Dorset Coast is a quiet and beautiful place to visit, not far from the coast are Stately Homes, ruined castles, and steam trains.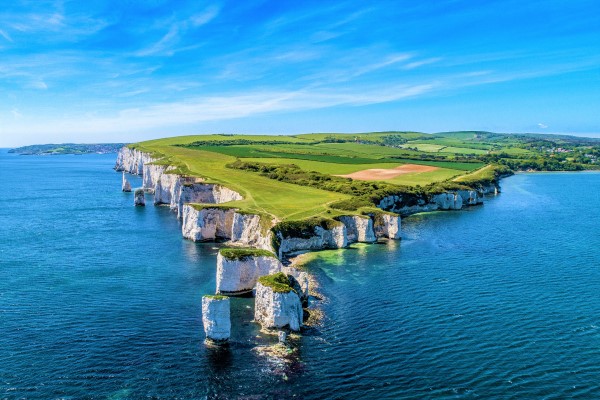 Old Harry Rocks, Jurassic Coast, Dorset, England
Credit: Shutterstock, Lissj
3. Oxford - The City of 'Dreaming Spires' has been a centre of learning for almost 1,000 years. It's golden stone buildings are a marvel and worth seeing at least once in our life.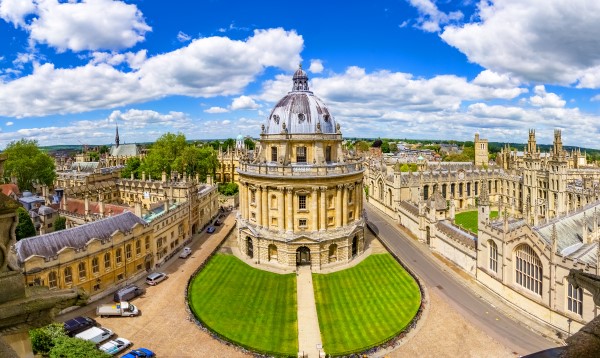 Oxford Streets, an overview from a church's tower with the Bodleian Library and All Souls College, Oxfordshire, England
Credit: Shutterstock, David Ionut
4. Yorkshire Dales - The geography of this area encompasses what many people usually imagine when they think of England. Beautiful and endless green patchwork hills dotted with beautiful rural villages.

Panorama of the Yorkshire Dales, England
Credit: Shutterstock, Lukasz Pajor
5. Georgian Bath - This stately city is one of the finest complete examples of Georgian architecture anywhere. Its beautiful golden Bath stone creates a warm and beautiful city, perfect to visit and easily walkable.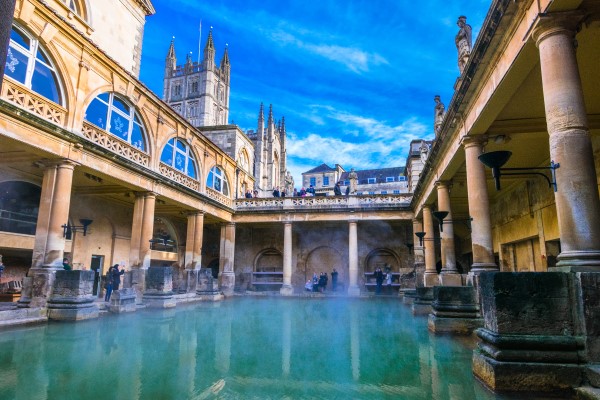 Steaming Roman Baths in Winter, Bath, England
Credit: Shutterstock, aroundworld
London is Not England, But England is London
The first thing any British person outside of London will tell you when you say you plan to visit England is that you should immediately get out of London and see the 'real England.' The problem with this logic is that it denies London its rightful place as the centre of English history and culture. While it's true that London is not representative of all of England, but England IS London. The city is critical to England's conception of itself. It's the capital. It's where political and economic power is centred. Millions of people move there every year to make their way in the world (and millions leave - London is often a phase in people's lives). Trends happen in London first, then slowly spread to the rest of the country. In the age of the internet and frequent travel around England, it's safe to say the London is still the centre of it all. But it's important to see the rest of the country. London is a huge city, and you should never assume that every English person has been there for lived there. Northern People particularly dislike the centre of London in English society, mostly due to economic disparity.
Weather in England
England's favourite topic of conversation will always be the weather. It's charitable to say that the weather in England is unpredictable. There's a common joke that the weather forecast could say 'partly cloudy, moderate temperatures, chance of rain' and it would always be true no matter what day it was. England's weather is very mild, compared to many other places (though an English person might disagree with this). England doesn't really have extremes in weather. This is due to its position as an island and the fact that warm waters from the Caribbean reach all the way to England and keep it mild year-round. It's rare for the temperature to go far below freezing or reach levels of extreme heat you experience in other parts of the world. England is a good place to travel in all seasons. Everyone says to avoid travelling there in the winter, but this is a great time to go as there are far fewer tourists around and the weather can be very lovely (though occasionally terrible).