Attraction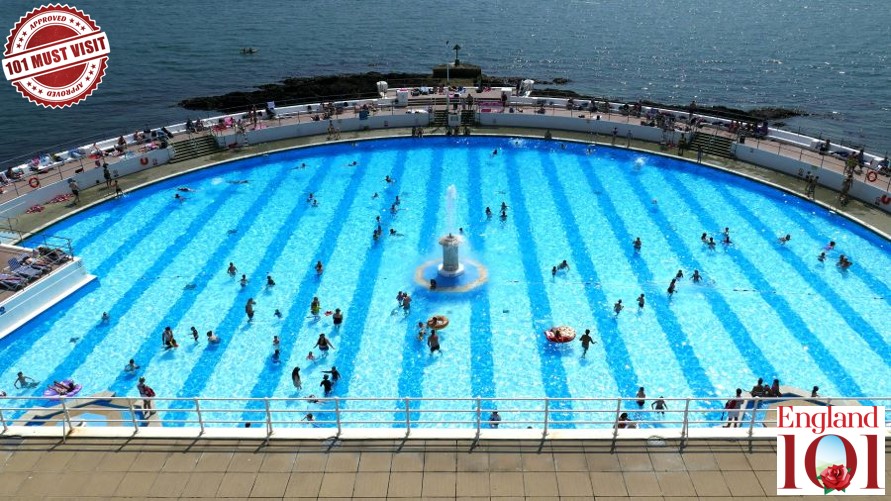 This Art Deco salt water swimming pool is a must visit during the summer months. Built in 1935 it is an example of quintessential British seaside from a bygone era. Set in a picturesque location overlooking the sea at Plymouth Hoe, it has been voted one of the top 10 best outdoor pools in Europe.
At 55m in width, there is plenty of space for the thousands of people who flock to the open air pool each year. There is both a shallow end and a deep end as well as sunbathing terrace - perfect to relax and top up the tan or sit with the family to have a picnic.
There is a cafe on site, serving everything from icecream and coffee to hot dogs and a range of other snacks.
Prices
Note - these are 2019 prices. Prices for 2020 and beyond are subject to changes
Swimming Session (max 2 hours at busy periods): Juniors (4-15yrs) £4; Adults (16-59yrs) £5; Seniors (60 yrs+) £4; Concessions £4
Family Swimming Session (max 2 hours at busy periods): Adults (16-59yrs) £14; Concession £10
3 yrs and under Free
Season Ticket (valid from May - Sept 2019): Juniors (4-15yrs) £50; Adults (16-59yrs) £70; Seniors (60 yrs+) £60; Concessions £50
Family Season Ticket (valid from May - Sept 2019): Family £155; Concession £130
Deck Chair Hire £2
Sunbed Hire £2.50
Opening Hours
Open May - Sept
Term Time
Monday to Friday 12:00pm - 6:00pm
Weekends 10:00 - 6:00pm
Evening Swims
Wednesday 6:00pm - 7:30pm
School Holidays
Monday to Friday 10:00am - 6:00pm
Weekends 10:00 - 6:00pm
Evening Swims
Wednesday 6:00pm - 7.30pm