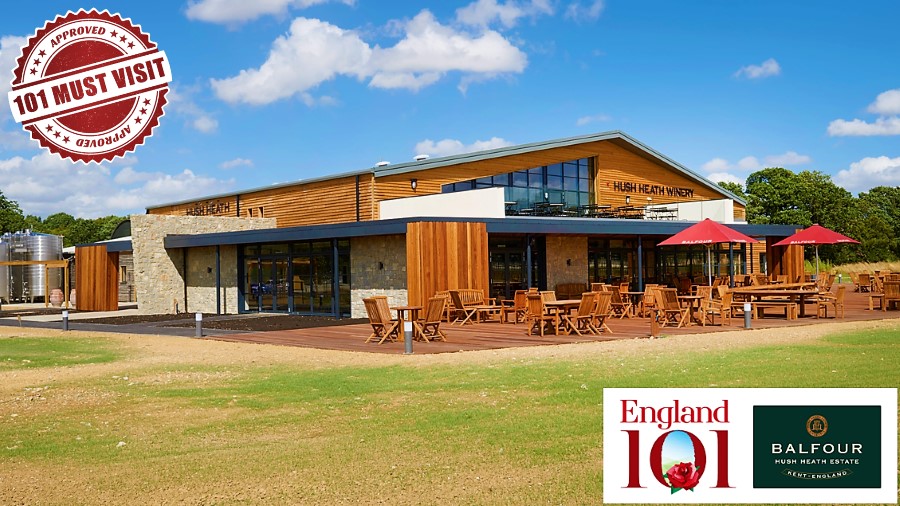 English wine was first introduced by the Romans hundreds of years ago, but has only really started winning international awards in recent decades. Today, the English wine industry is booming, with rapid growth and accredited recognition from sommeliers and wine critics worldwide.

This 101-Must-Visit winery is Hush Heath Estate - Home and heart of Balfour wines. A multiple award-winning producer, their flagship Balfour Brut Rosé uses three classic Champagne varieties: Chardonnay, Pinot Noir, and Pinot Meunier, crafted using the traditional method. The success of this wine established the signature Balfour style which can be found across their product range - clean, well balanced fruit with vibrant English acidity. The estate itself comprises 400 acres of pristine English countryside. Stroll through the vines, apple orchards, wild flower meadows and ancient oak woodlands, as part of a self-guided walk or guided tour and tasting. Then head back inside to their state-of-the-art Winery and Tasting Room to sample some of their award-winning produce.

They also have a collection of Hush Heath pubs nearby, offering fresh local produce, friendly hospitality and fantastic boutique hotel rooms.
Price
From £20.00
A variety of tour & tastings packages are available year-round from £20 per person.
Add ons are also available:
Hush Heath Dining experience: A three-course meal paired with a flight of Balfour wines at one of the nearby Hush Heath Hospitality pubs. £30 per person.
Sharing Platters for two: Delicious charcuterie, cheese, vegetarian or mixed platters are available, made with local produce and served with freshly baked bread and crackers. £20 per platter.
Tour duration: 2 to 3 hours
Opening Hours
The estate is open daily from 10am to 5pm for self-guided walks and complimentary tastings.
Guided tours and tastings are bookable: Thursday - Sunday.
Hush Heath Hospitality Pubs are open daily from 11am to 11pm
To book or for more information visit www.hushheath.com or call +44 (0)1622 832794.
Note: Due to safety reasons children under the age of 10 cannot go inside the winery production area and only visitors over 18 are able to taste the wines/ciders

Balfour
Hush Heath Estate
Five Oak Lane
Staplehurst
Tonbridge
TN12 0HT