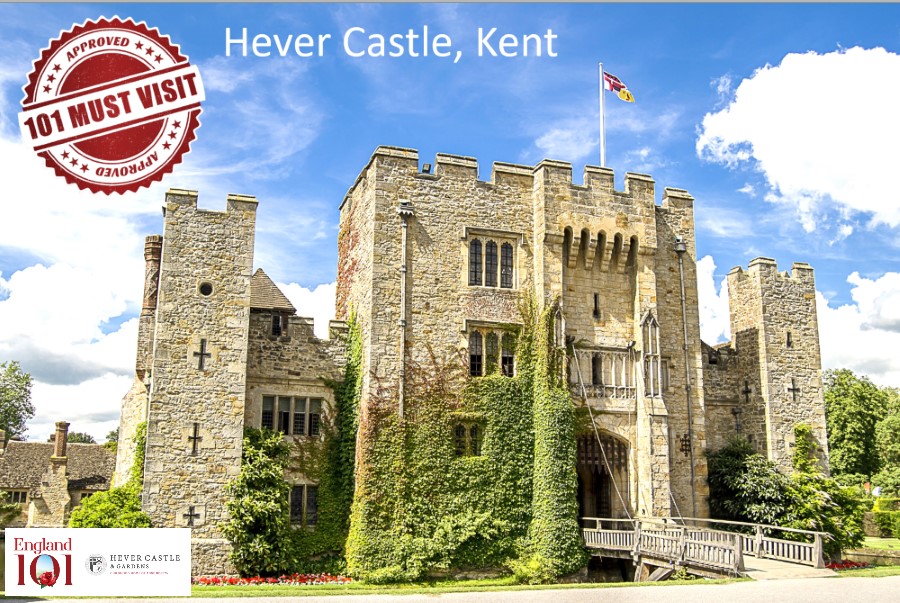 Hever Castle is another 101-Must-Visit for Kent with its links to Anne Boleyn and Henry VIII. The castle boasts intricate mazes, award-winning gardens and a spectacular lake. William Waldorf Astor, at the time, the richest man in America, purchased the Castle in 1903. Between 1903 and 1908 he set about the reconstruction of the Castle, construction of the Astor Wing and creation of the lake and gardens. Previous to this, only a modest garden existed around the Castle walls. It is because of the work of Astor and those of the gardening team that Hever Castle is surround by such incredible natural beauty.
The castle offers three floors containing antique furniture, Anne Boleyn's prayer books, instruments of torture, and a large collection of Tudor paintings. There is also a museum dedicated to the Kent and Sharpshooters Yeomanry. The grounds of the castle include a yew maze as well as a water maze, which the objective is to get to the folly at the centre without getting wet.
The castle gardens contain a wide range of features, including an Italianate garden (including Fernery), rose gardens, herb garden, and topiary. You can also enjoy Astor's Garden Legacy, the interactive garden exhibition which traces the restoration and development of the stunning gardens from Tudor times to the present day.
Your kids will have a ball exploring the Tudor Towers Adventure Playground, which features a nine metre tall wooden play castle. With three towers to climb and two fireman's poles to escape via, they will love the thrill of discovering what's around each twist and turn of the adventure playground.
Price
Family : £38.90
2 adults and 2 children or 1 adult and 3 children.
Old Age/Pensioner : £12.75
Child : £8.90
Free entrance for children under 5.
Adult : £14.15
Price varies depending on the tour chosen. Prices shown are only available online and not at the gate. Click our Book Now button for more information. Online tickets cannot be purchased on the day of your visit.
Tour duration: 3 to 4 hours
Opening Hours
Grounds open at 10:30
Castle opens at 12:00

Last entry:
16:30 Apr to Oct and Dec
15:00 Nov and rest of the season
Hever Castle and Gardens
Hever, Edenbridge
Kent, TN8 7NG