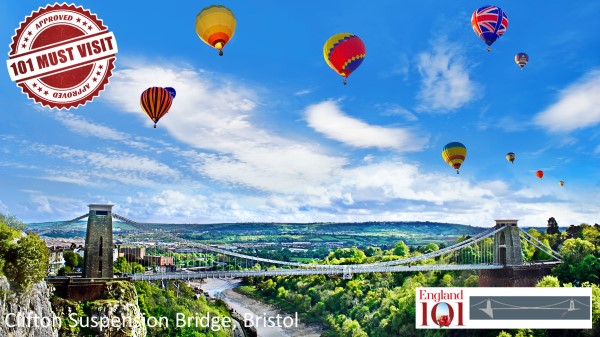 One of the world's great bridges, spanning the picturesque Avon Gorge, known as Brunel's 'first child'. For almost over 150 years, this Grade I listed structure has attracted visitors from all over the world.
The basic tour is free, but they also have a 'Leigh Woods Vaults Tour' which is pretty impressive and has a small fee. The Vault tours sell out during the summer so click on Book Now to book in advance.
They happily cater to large groups, but only if a timeslot has been booked in advance - contact getinvolved@cliftonbridge.org.uk to make a reservation.
This is one of our top '101-Must-Visit' locations for Bristol, and arguably all of England.
Price
2 types of tours run from Easter to october: Free Tour and Leigh Woods Vaults Tour.
Free Tours are available at 3pm on Saturdays, Sundays and Bank Holidays from Easter to October.
You may spot their volunteer 'Explainers' out on the bridge in orange high-vis jackets, ready to share amazing information about the history of the bridge.
The Leigh Woods Vaults Tour may be undertaken as a one hour excursion or a two hour historical or technical tour. The two hour tour costs £15 per person and the one hour charges £10 for an Adult and £8 for a Child excluding booking fee.
RECEIVE 10% OFF your ticket price for the Leigh Woods Vaults Tour. Enter the promo code ENG101 to avail of this exclusive offer. (Steps: Click our 'Book Now' button, Select the tour you want, Select 'Tickets' then click 'Enter promo code' in blue text. Select 'Apply' and the discounted price will appear).
Tour duration: The free guided tours lasts 45 minutes to 1 hour. The Vaults tour takes 1 or 2 hours.
Opening Hours
Their Visitor Centre is open 10am to 5pm every day, throughout the year.
Entry is free and donations are welcomed.