71,450 Global McGuire Family Members
Days
Hours
Minutes
Seconds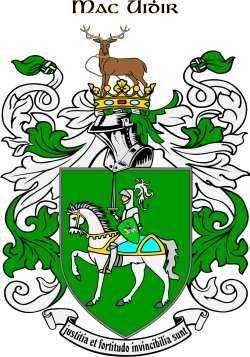 McGuire
Family Room
Next Event:
Sunday 17th December
2pm (New York), 7pm (Ire)
Live
Days
Hours
Minutes
Seconds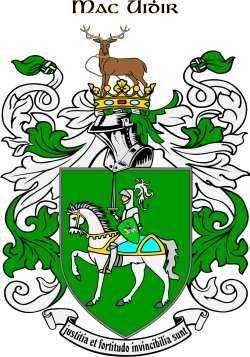 McGuire
Family Room
Next Event:
Sunday 17th December
2pm (New York), 7pm (Ire)
Live
Our in-person family gatherings
Our TEDx talk about family gatherings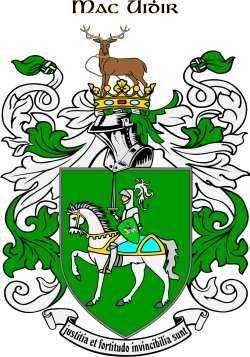 Design your own McGuire Family Crest
McGuire Family History
Mag Uidhir - anglicised Maguire, McGuire, MacGuire, earlier M'Gwire &c. The root is 'odhar' the genitive of 'uidhir' which possibly means dun coloured or pale. This is the usual derivation given: (Woulfe [1923] MacLysaght [1985] et. al.) However, Ó Corráin and Maguire ('Irish Names', 1990) note the meaning of the first name Odar/Odhar as meaning either 'dark-sallow, grey-brown' or possibly, and quite differently, the early name for an otter, used as a first name.
In the 1850s Maguire was the spelling by far the most common in Fermanagh (also with the highest number), Monaghan and Down, and outnumbered McGuire by almost 3/1 in Cavan (2nd highest number), and 2/1 in Tyrone, Leitrim and Louth, though roughly equal in Donegal, Mayo and Roscommon.
The name Mac Uidhir is that of a powerful and influential sept of Fermanagh. They appear in the Annals very early and continue to occupy the 'headlines' of Irish history into modern times. The first mention is in the Annals of the Four Masters for 956: 'Tanaidhe Mac Uidhir, successor of Comhghall, was killed by foreigners'; the foreigners, or Gaill in the original Irish, probably referred to Vikings.
The Maguires dominated the affairs of Fermanagh, with strongholds all over the county, until the intervention of the Elizabethans, under Lord Deputy FitzWilliam, in the late 16th century. They were provoked into open rebellion in 1592/93, and themselves invaded Connacht, in response, under their chief Cuconnacht Maguire. There, in 1593, the Maguire led his army into open conflict with the English 'conquistadores' under Sir Richard Bingham. During the repression that ensued, the English forces were supplemented by those of the O Neill, Earl of Tyrone, who reluctantly sided with the English, his own representatives said, through fear (O'Donovan, 'The Maguires of Fermanagh', 1861). The Maguires were defeated near Belleek, and a 'puppet' Maguire, Conor Oge Maguire, known as 'the English Maguire', admittedly the senior claimant, was installed as chief. The son of Cuconnacht, Hugh Maguire, known as 'the Irish Maguire' was left out in the cold!
Conor Oge, anglicisé Cornelius Rufus, was knighted by Sir John Perrott in 1585, and 6000+ acres of his lands in Fermanagh were re-granted to him. The Barons Enniskillen came from this line, although they too fell foul of the English Government, as Conor Maguire, Baron of Enniskillen at the time of the Rebellion of 1641, who was executed at Whitehall in London in 1645 for his participation in a plot to seize Dublin Castle, and of course to recover his ancient estates. The Maguires played a great part in the 1641 Rebellion, and their names crop up frequently in the 'Depositions' (witness statements) in 1653.
The sept were harshly treated during the Cromwellian Expugnatio of Ireland in the 1650s, and again in the Williamite incursions in the early 1690s. The contemporary Maguire, Baron of Enniskillen, led a regiment of infantry in King James army at the Battle of the Boyne. The subsequent defeat of the Jacobite forces obliged many of its officers and men, including many Maguires, to go into exile in France, where they served in the Brigade Irlandaise. The sept occupies an honourable place among Ireland's 'Wild Geese'.
Listed as a 'Principal Irish Name' in Petty's 1659 'Census' of Ireland (incomplete) are the following examples:
Fermanagh
Clownish & c. parishes, MacGuire, 50 families (all figures following indicate families or households); Bohue Rossory parish & c. McGuire & Maguire, 26; Aghaharcher &c. McGuire & Maguire, 46; Dumully &c. McGuire, 12, and Mguire, 41; Templecdarne & c. McGuire, 8, and Maguire, 34. Patt McGuire, Conner Maguire & John Maguire are listed as 'tituladoes' and 'gentlemen' in the county, in Drumully and Derrybruske parishes.
Cavan and Tyrone are missing from the 'Census'.
Down or Monaghan, none found.
Leitrim
Baronies Leitrim, Mohill, Carrigalane, McGwyre, 18; Dromagheire & Rosclogher, McGwyre, 9.
Louth has a number of McGroyre, but these are likely a variant of McGrory (Mac Ruaidhrí), also found in the same barony.
Donegal, none found.
Mayo is missing from the Census.
Roscommon, none found.
In Griffith's 'Primary Valuation' (1847-64), the top counties for Maguire households were Fermanagh (762), Cavan (288), Louth (158), Tyrone (146), Monaghan (118), Down (116) and Leitrim (115).
For McGuire, top counties were Cavan (110), Leitrim (66), Donegal (59) and Tyrone (59).
The 1890 birth registration figures (R.E. Matheson, 'Special Report on Surnames...', 1894, 1909) show most Maguire births in Fermangh, Dublin, Cavan and Donegal, and most McGuire births in Roscommon and Mayo. Examples of the name occurred in many parts of Ireland, however. There were 248 Maguires and 74 McGuires in all. Maguire was the most numerous surname in Fermanagh in 1890, and the 39th in all Ireland.
Famous Maguires/McGuires
Apart from the illustrious examples mentioned in the text, family members have peppered the ranks of the Irish Alumnii. Among these:
George Maguire (1796-1882) born in Omagh, Tyrone. He was the first Democrat to be elected Mayor of St Louis, Missouri, in 1842.
Tom Maguire (1892-1993) leader of the south Mayo Flying Column of the I.R.A. during the War of Independence in 1921. He opposed the Treaty with Britain, and was a member of the Anti-Treaty Executive of the I.R.A. during the Civil War of 1922. He was captured, imprisoned and comdemned to death by the Free State forces. Maguire was spared, possibly because of his prominent status; however, his younger brother, Sean, was executed by them at the age of 17.
Kathryn McGuire (1904-1976) born in Illinois, star of the silent screen, acting as 'Betsy O'Brien' in 'The Navigator' (1924). She was also a talented dancer. A sultry looker!
Dorothy Hackett McGuire (1916-2001) born in Nebraska, an actress of considerable talent, receiving an Academy Award Nomination for Best Actress in 1947, for her part in 'Gentleman's Agreement'. She acted in many films, including 'The Enchanted Cottage', 'Three Coins in the Fountain', 'Swiss Family Robinson' and 'The Greatest Story Ever Told'. She was brilliant in her first film role as Claudia, a scheming child-bride.
Brian McGuire (1945-1977) born in Melbourne, Australia; Formula 1 racing driver who never fulfilled his potential, his life cut short by an accident driving his own car, the McGuire BM1, in a practice run at Brands Hatch.
Who can see your post?
Your post will show up in News Feed, on your profile and in search results.
Public

Anyone on or off Wales101

Friends

Your friends on Wales101

Specific

Only show to some friends

Only me

Only you can see your post
Share and remember important moments from your life.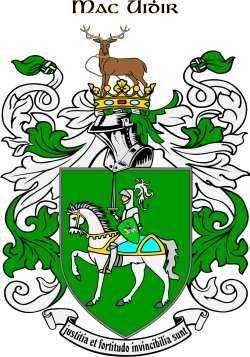 Greetings! My name is Janet and I live in the United States. I am a descendant of Christiana McGuire Gatliff who is recognized as a patriot of the American Revolutionary War. I am interested in learning more about her lineage and connecting with other relatives.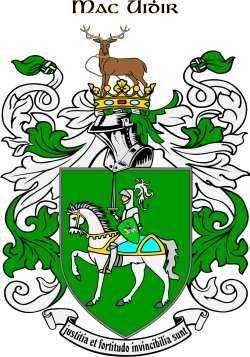 Peter McGuire, Led the fight in the US for Labor Day!! Not sure if he was a senator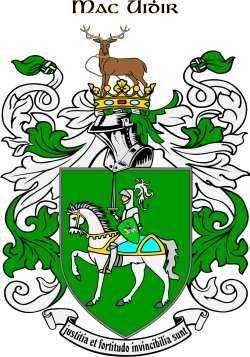 Hello, my name is William McGuire. I have no idea where my ancestors came from, all I know is that I'm Irish and my last name is McGuire, and that I was born in Jacksonville FL. I'm 14 so its gonna be fun to start reading about the family!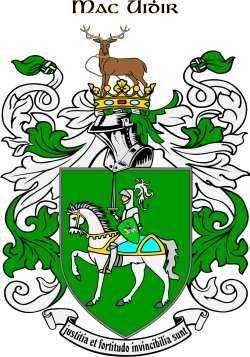 Trying to find family history of James McGuire , Born 1620 in Fermanagh, ireland , died 1682 Fermanagh,Ireland.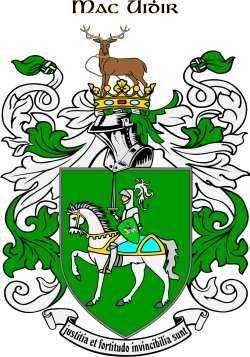 Mary anne patricia Vallel
I I WAS BORN IN DUBLIN AND ADOPTED MY SURMAME IS MC GUIRE SEARCHING FOR MY FATHER GRANDMOTHER WHOS NAME IS CATHERINE MY MUMS NAME IS KATHLEEN MY MUM WAS BORN IN DUBLIN TOO IN THE SAME ADDRESS AS ME ST PATRICKS HOME NAVAN ROAD LOOKING FOR HELP TO TRACE ANY KNOWN RELATIVES IN IRELAND WITH LINKS TO MC GUIRE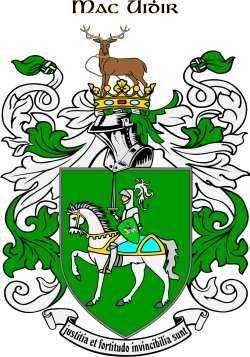 My name is Ethan Davis. And supposedly I'm the bastard child of one Sean McGuire. Roughly born between 1948-1960s? My mother was 38 and married to another man by the last name of Groen Supposedly my bio-father came to the states (Illinois)from Ireland at some point in '96. Had a tryst with my mother and "left." I have no clue if he went back or if he ever was from the Isle. I'm just trying to gain some closure. I'm 22 and awaiting DNA testing from Ancestry.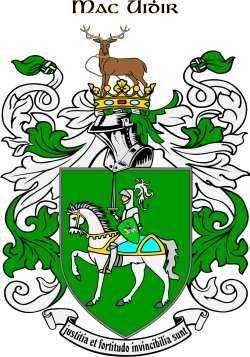 Denis McGuire born 1810 donegal married catherine burns/Byrnes born 1815 kilcar donegal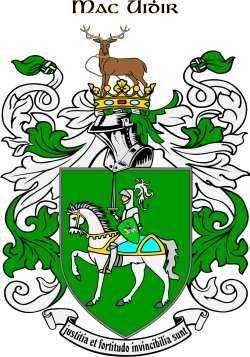 i would love to find out where my linage are from and if any are left in Ireland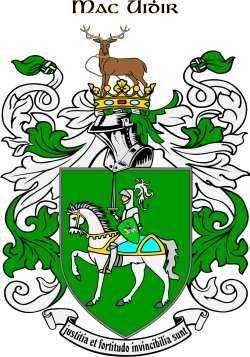 John and Margaret Mcguire from Farnbeg Stokestown where my Great grandparents. need to know more about the family history prior to them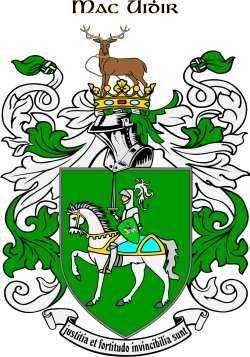 Hi my name is Sean McGuire fro. Philly pa. My 3x great grandfather was Dennis McGuire born 1810 from county Donegal. I have 2 parishes where he may have belonged to. Any ideas on how to get more info. I ran into a wall.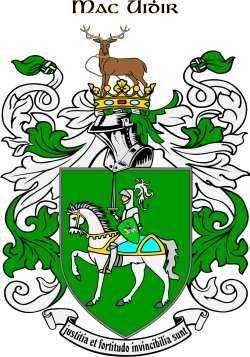 Looking for whereabouts of JOHN JOSEPH MCGUIRE born Feb 1877 in Belanagare Roscommon (Bryan and Jane Corcoran). Family Lore says he was sent to live with a rich aunt just after birth - does not appear on 1881 or 1891 UK census (his siblings do in 1891). John does appear in 1901 Burton upon Trent UK census. Where was he for 24 years?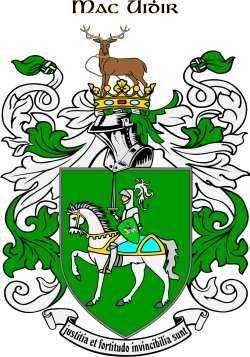 (Part 1 of 3) The McGuire name has a long history in Ireland, but now DNA and some recorded history says its origin is from the north-west region of the Emerald Island. The McGuire story [dominated by DNA tribal marker R1b-L513, Subgroup D2] can trace their beginnings to the Finn Valley in Donegal, Ireland from 50 BCE. Perhaps the journey begins with the Clanna Dedad; Deda, son of Sen or Deda Mac Sin. The McGuire surname origin is from the Cenél Conaill [R1b-L513, Subgroup D] who found the Dál Fiatach.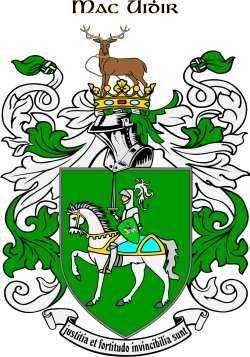 (Part 2 of 3) A group will also found the Kingdom of Ercing in Wales as trade with Romans will become essential around 300 CE. But how could this be? Recent discoveries from DNA testing are unlocking the migration patterns of Celtic tribes as late as 800 CE to 1200 CE. The McGuire story begins in pre-history Ireland but this line and many of his kin will move to Wales, then travel to Brittany, France during the Dark Ages.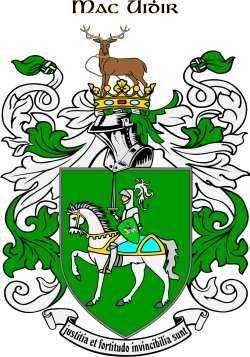 (Part 3 of 3) Discover their newly found untold story and how forgotten texts bring their story back to life. From the ebook, "The Tribe Within" learn how DNA unfolds this amazing tale and if you look in the right places, how history narrates this evidence. There is another written account of their story, but it is camouflaged in smoke and myth – it will become the tales of King Arthur. Come follow in the footsteps of Deda Mac Sin and visit https://www.smashwords.com/books/view/401207
Invite more McGuire family members!
Write an email address and click 'Invite' to share this page with more members of the McGuire tribe.
Family Coat of Arms Generator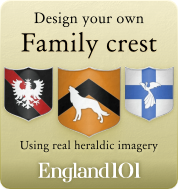 Why not see what your family crest could look like based on your own family characteristics?
Create Crest
Join the Irish Learning Rooms
SHOP
Show off the McGuire Family Crest…
Wear your crest with pride...plenty of products to choose from