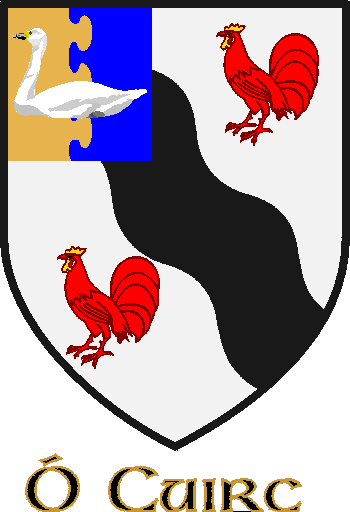 Get this crest printed on...
QUIRKE Family History
Recorded in several forms including O'Quirke, MacQuirke, McQuirke, Quirk, Quirke, and Guirke, this interesting surname is of Manx and Irish origin. It is however spelt a developed form of the ancient Gaelic surname O' Cuirc, and the Manx Mac Cuirc, meaning either the male descendant of, or the son of Corc. The latter personal name originates from the pre 7th century word "corc", meaning heart, or possibly "curc" describing a tuft of hair, and hence a nickname for somebody with such a hairstyle! The surname dates back to the mid 11th century, (see below), and examples of recordings include Ceinnedigh Quyrke in the register of Manx Names of London in 1511, Thomas McQuyrke of Dumfriess in 1508, and that of John Quirke who was christened on August 30th 1577 at St...