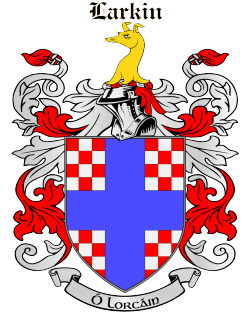 Get this crest printed on...
LARKIN Family History
Recorded in several forms as shown below, this ancient surname is English or sometimes Irish. If English it is derived from a diminutive of the pre 10th century Old French personal name Lawrence or Laurence, itself derived from the Roman word meaning "victory". To this has been added the suffix "-kin", meaning a close relative or perhaps son of. If Irish it is a developed form of the Gaelic surname O'Lorcain, the prefix O' meaning "male descendant of", with the suffix Lorcan, originally a personal name meaning fierce or cruel! The surname is recorded in England in the13th century (see below), and another early recording is that of Thomas Lorkyn, in the Subsidy Rolls of Cambridgeshire in 1327...