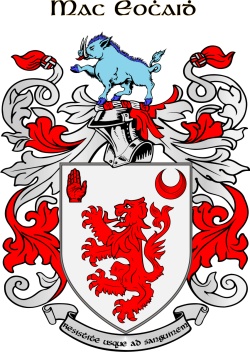 Get this crest printed on...
KEOGH Family History
Kehoe/Keogh is one of several versions of the Irish name "Mac Eochaidh" which translates as ?son of Eochaidh?, a personal name based on each ?horse?. In Ireland the Kehoe version is used most often in and around County Wexford while Keogh is more common throughout the rest of the country. There is also a similar Danish surname, Ke?gh.