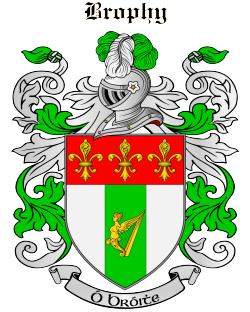 Get this crest printed on...
BROPHY Family History
This surname is of Irish origin, and is an Anglicized form of the Gaelic "O'Broithe", the prefix "O" denoting male descendant of, plus the personal name "Broth". The surname is widespread in counties Leix and Kilkenny. According to the "Census" of 1659, Brophy was one of the principal names in five baronies of Queen's County (Leix), and in five of Co. Kilkenny. In Clandonagh it is perpetuated in the well known Co. Leix placename Ballybrophy. Variations in the spelling of the surname include Brohy, Brophey, Broffee, Broffey, and Broy. Church Records list the christenings of Edmund, son of Edmund and Margery Broffee, on January 13th 1725, at St...