661,804 Essex Diaspora around the world
Sprawling east of London out to the North Sea, Essex is a county of contrasts. On the one hand, the west side of Essex enjoys a fair amount of affluence, being in large part of the London Commuter Belt and home to workers who find Essex an easy place from which to be based for work in the City. On the other hand, the east side of Essex is one of the most deprived places in England, third only behind Liverpool and Manchester in terms of poverty. In terms of contrasts, Essex is home to England's largest village (Tiptree) and England's smallest town (Manningtree). The contrasts Essex is built on make it one of the most eclectic places you can visit.
Though Essex has a reputation for urban sprawl (thanks to its commuter belt status), the county is, in fact, largely rural and has a surprising amount of history. In fact, Essex is home to the oldest recorded town in Britain, Colchester, a Roman-era town that once had its own mint. Colchester's castle is in excellent condition, as are the remains of its 1.5-mile Roman city wall. Not far from the town is the 16th century Layer Marney Tower, which remains the tallest Tudor gatehouse in England. Another piece of history took place in Chelmsford, which was once the capital of England, even though it was for a few days only.
Among Essex's other numerous heritage sites is Waltham Abbey, a Norman church that houses the remains of King Harold, who founded it in 1060. Audley End House and Gardens, meanwhile, is a perfectly preserved grand mansion estate that operates as a Victorian-era living museum, complete with gardens, service staff and a stable full of resident horses.
The county today is home to some of the most beautiful sceneries in England. Essex enjoys the longest coastline of any of the counties, at 350 miles. A number of resort towns make for nice seaside getaways, such as Southend-on-Sea and Walton-on-the-Naze, while Harwich is noted for its colourful maritime history, replete with lighthouses and plenty of boats! Moreover, Essex is the county with the highest number of islands (35) and has the longest pleasure pier in the world (Southend Pier).
By far, though, the most famous things about Essex are its girls. This pejorative term is used across England to describe the promiscuous girls that are jokingly meant to be the county's best-known characteristic. An "Essex girl" typifies the dumb blonde stereotype, often wearing stiletto heels and boasting an orange-hued fake tan. The stereotype is, of course, just an attempt in being funny, when the reality is quite the opposite. Wandering the streets and fields of Essex, you may meet many amazing, beautiful and smart people!
Highlights:
Waltham Abbey
Britain's oldest town - Colchester
Essex girls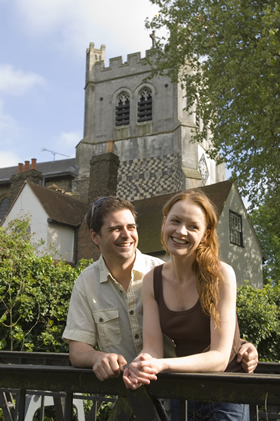 A happy young couple look out from an old footbridge in front of Waltham Abbey in the Lee Valley Park., Waltham Abbey, Essex, England.
Credit: Britainonview, Rod Edwards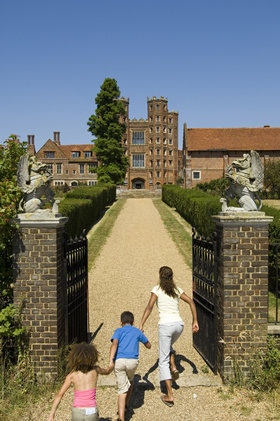 A mother and her two children running towards Layer Marney Tower in Essex.
Credit: Britainonview, Rod Edwards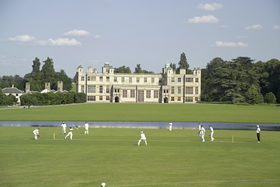 Audley End is an early 17th century country mansion, which was once a palace in all but name. A game of cricket is being played in front of the house. Audley End, Essex, England.
Credit: Britainonview, Rod Edwards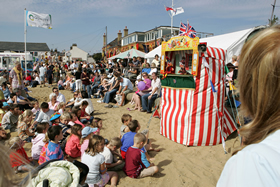 Saltram House is a classic example of a George II mansion with its original contents, set in an attractive 500 acre parkland on the banks of the River Plym
Credit: Britainonview, Britain on View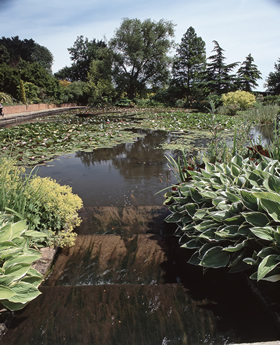 The Top Pond at RHS Garden Hyde Hall, Rettendon, Chelmsford, Essex, England.
Credit: Britainonview, David Sellman