1,775,476 Cornwall Diaspora around the world
How much do you know about Cornwall ?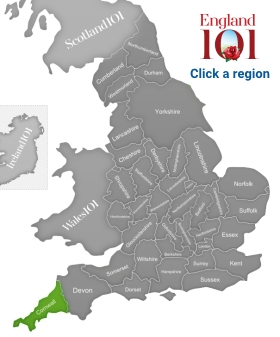 The black sheep of the English counties, Cornwall could nearly be its own sovereign nation. Fiercely proud of their Celtic roots, the locals here are much more likely to proclaim themselves as Cornish, rather than English or even British. And not unlike Wales, Cornwall occupies the wild southwest of English, along a coast dotted with caves and cliffs that were once the intriguing hideouts of pirates and smugglers.
The picturesque seaside town of Penzance was setting for the infamous opera, The Pirates of Penzance, which evokes the rugged outpost of a setting that makes Cornwall so special. There are no metropolises here, and the largest urban centre in the region, and Cornwall's only official city (and the county capital), Truro, has a population of only about 20,000, which gives an idea about Cornwall's generally rural atmosphere.
Tucked away in the south central section of Cornwall near the town of St. Austell is the Eden Project, a special global garden housed in a series of biomes that together make up the largest greenhouse in the world. A number of other more historic gardens are scattered around Cornwall, including the Lost Gardens of Heligan - a maze of flora and fauna spreading from jungle to apple orchards, which fell into disrepair following World War I and was subsequently rejuvenated.
A great deal of Cornwall's appeal lies in its unpredictable coastline, which is comprised of craggy cliffs, lost islands and grassy bluffs overlooking the harsh waves of the Atlantic Ocean. Land's End is the most southwesterly point in Britain, is marked by a sign and accompanying theme park, but the real gems here are the natural rock formations formed by the sea just off the coast, including several impressive cliffs and sea arches.
Delectable Cornish pasties (meat-filled pastries) aside, the list of things to come out of Cornwall is as sizeable and unusual as you might expect. For example, John Couch Adams, who discovered Neptune, was born near Lanuceston, while both actress Kristen Scott-Thomas and Mick Fleetwood of rock band, Fleetwood Mac, are from Redruth. However, Cornwall will above all always be the mythical home of King Arthur (think Knights of the Roundtable), who was purportedly born at Tintagel Castle. Located on a rocky outcropping on the north coast of Cornwall, the castle consists of a medieval fortress surrounded by dramatic cliffs.
Boats moored in the harbour, Boscastle, Cornwall, England.
Credit: Britain on View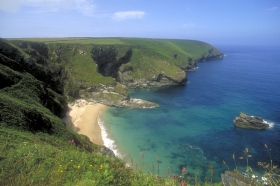 Coastline, Fisherman's Cove, Cornwall, England.
Credit: Britain on View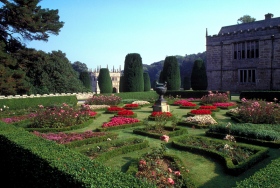 Lanhydrock gardens Nr. Bodmin, Lanhydrock, Cornwall, England.
Credit: Britain on View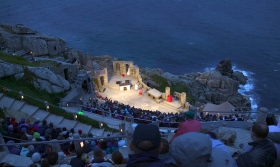 Actors give a night performance at the Minack Theatre in front of an appreciative audience. Minack Theatre, Cornwall, England.
Credit: Britainonview, Martin Brent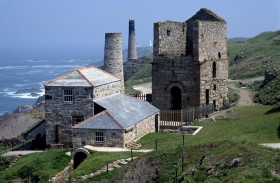 The old copper mine of Levant on the north Cornish coast. Levant Mine, Cape Cornwall, Cornwall, England.
Credit: Britain on View