How much do you know about Lincolnshire ?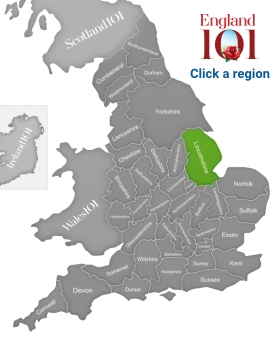 At more than 2,600 square miles, northeast Lincolnshire is the second largest county in England. You wouldn't necessarily know it, though, considering there are only about a million people in the entire county, making it one of the most sparsely populated counties in the country. In fact, Lincolnshire has only one real city - Lincoln - which is also the county town. Lincoln is home to a beautiful thousand-year-old cathedral and castle.
In addition to the outstanding beauty and history of Lincoln Cathedral, the county has other strong connections to religion. For example, theologian John Wesley founded the Methodist denomination in his hometown of Epworth in the mid-18th century. Since then, Methodism, which is a Protestant Christian denomination, has spread all over the world, particularly in North America.
Lincolnshire's greatest asset is, of course, its rural charm. With both beautiful coasts and rustic inland scenery, the county boasts the type of landscapes that cater to all visitors. A great portion of Lincolnshire's more than 50-mile-long coast has been designated Blue Flag Beaches with all of the holiday resorts that go along with them, while inland, the Lincolnshire Wolds - an Area of Outstanding Natural Beauty - features a landscape of gently rolling hills dotted with quaint market towns.
Despite its rural charm, Lincolnshire has produced some very important members of society. Sir Isaac Newton, one of the greatest scientists of all time and discoverer of the laws of gravity, was born in Woolsthorpe-by-Colsterworth, a small Lincolnshire hamlet. Poet Alfred, Lord Tennyson was born in Somersby, while actor Jim Broadbent (of Harry Potter and Bridget Jones' Diary fame) was born in Lincoln and former British Prime Minister, Margaret Thatcher, was born in Grantham.
Highlights:
The Wolds
Sir Isaac Newton
Margaret Thatcher
Methodism/John Wesley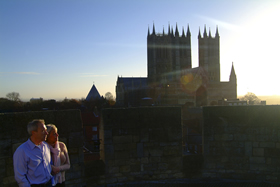 A mature couple enjoying the view and sunset from the walls of Lincoln Castle. Lincoln Cathedral is in the background.
Credit: Britainonview, Tony Pleavin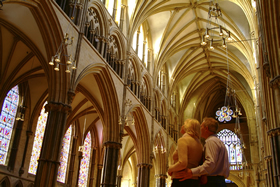 A mature couple, stood arm in arm, admiring the spectacular interior of Lincoln Cathedral. Lincoln Cathedral is one of the finest medieval buildings in Europe.
Credit: Britainonview, Tony Pleavin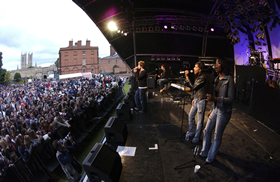 An artist performs at the Midsummer Magic Tour at Lincoln Castle, Lincoln, Lincolnshire, England.
Credit: Britainonview, Alan Chandler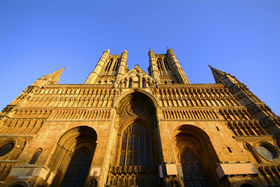 Lincoln Cathedral is one of the finest medieval buildings in Europe, which towers above Lincoln, a prominent landmark for miles around.
Credit: Britainonview, Tony Pleavin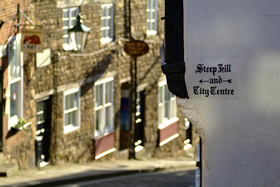 Steep Hill in Lincoln. Steep Hill is, as the name implies, a hill which requires a certain level of fitness to ascend!
Credit: Britainonview, Tony Pleavin